Richards Book Launch

David Adams Richards
Author of
THE FRIENDS OF MEAGER FORTUNE
Will launch his newest book at Books Inn in Miramichi
SEPTEMBER 15TH, 7-9 pm
Book Description
From Canada's beloved Governor General's Award and Giller Prize winner, David Adams Richards, comes a sweeping, spellbinding novel of New Brunswick in the 1930s and '40s that is perhaps his finest work to date.
Teenaged Will Jameson has a temperament of iron, standing up to men twice his age when he takes over the Jameson lumber company after his father's death. His younger brother, Owen, is sensitive, literary, and fanciful. But when Will dies suddenly and Owen's beloved Lula rejects him, Owen's deeper character comes to light: joining the army in the hope of getting himself killed, instead Owen returns home a decorated war hero.
Then he falls in love with the beautiful, childlike Camellia – the wife of Will's old friend Reggie Glidden – and soon Owen and Camellia find themselves watched on all sides, caught in the teeth of an entire town's gossip and hypocrisy. Inexorably, they are pulled into a chain of events that will end with death, disappearance, and a sensational trial.
"The Friends of Meager Fortune" is a transfixing love story and a devastating portrait of a society – but it is also a brilliant commemoration of the passing of a world. Owen Jameson begins what will become the greatest cut in New Brunswick history, his men setting up camp on the notoriously dangerous Good Friday Mountain. The teamsters spend months in pitiless ice and snow, daily pitting themselves against nature and risking their lives for scant reward, in the last moments before the coming of mechanization that will make them obsolete. This heroic, brutal life is all Meager Fortune, the camp keeper, knows. A good and innocent man, he shows unexpected resolution in the face of the betrayals of the more worldly men around him.
Rich with all the passion, ambition, and almost mythic vision that defines David Adams Richards' work, "The Friends of Meager Fortune" is a profound and important book about the hands and the heart; about true greatness and true weakness; about the relentlessness of fate and the evil that men and women do. Wise, stark, and without a false word in it, it cements David Adams Richards' claim to be the finest novelist at work in Canada today.


ABOUT THE AUTHOR
DAVID ADAMS RICHARDS won the Giller Prize, the Governor General's Award and the Trillium Award. He is the author of the celebrated Miramichi trilogy, Nights Below Station Street (1988), winner of the Governor General's Award; Evening Snow Will Bring Such Peace (1990), winner of the Canadian Authors Association Award; and For Those Who Hunt The Wounded Down. His novel, The Bay of Love and Sorrows, published in 1998, received widespread critical acclaim and has been made into a feature film.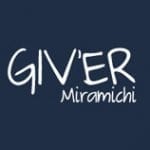 Giv'er Miramichi is about "What's up, what's new, what's happening". We are focused on building people up, supporting one another and celebrating our successes.