Melanie Ross is Back
The long awaited new album from Melanie Ross launched recently at Saltwater Sounds. Titled "Melanie Ross and Friends"-From Our River, it is the 2nd of a 3-album set promoting and preserving the songs and traditions of the Miramichi and Northern New Brunswick.
This album takes you on a journey up and down the entire river system, guided by the clear voice and perfect pitch of Melanie Ross. She is joined by the Peter, Paul and Mary smooth sounds of Connie and Paul ("Mattie's Cove") and the booming baritone voice of Frankie McKibbon ("Miramichi Men"). The pride and love of the region come out in the words and melodies of Mike and Eric MacKenzie, and the harmonies of the Gillis family (Barb, Lynn, Gillian) as you journey along the river. Other songs take you to Boisetown, Blackville and Renous. Melanie has also include some of her own songs ("The River is Wide" and "River at Midnight") which give a magical quality for everyone who has walked or sat on the banks of the river. In the end, after 14 tracks you have to let go as this mighty river meets the sea ("Letting Go") Unique to this album will be a Satellite Landsat photo of the entire Miramichi River with all the songs placed along the journey.
A project of BooWoo Productions and Promotions, this CD had its roots in the talents of the Miramichi Folksong Festival under Susan Butler , where last August many of the performers were heard by the executive producer .Recorded in 3 separate studios, this album has been mixed and mastered at the ECMA award winning Denmark Productions by Dennis Field.
The importance of New Brunswick traditions and Maritime music have been valued, honored and supported by Lord Beaverbrook, Louise Manny and many others who have followed. The music of the Miramichi is once again brought to you by "Melanie Ross and Friends"- From our River. …one song at a time!
For further information please check out www.melanieross.com or contact
BooWoo Productions and Promotions at (902)860-0530
Or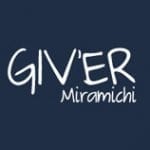 Giv'er Miramichi is about "What's up, what's new, what's happening". We are focused on building people up, supporting one another and celebrating our successes.