Early Language Development Registrations Being Taken
A new group experience for parents and their young children, focusing on early language development, is now available in the Miramichi area in both official languages.
Parle-Moi/Talk with Me Early Language Services at the Miramichi Regional Health Authority in partnership with community partners is offering the Parent-Child Mother Goose Program in both English and French to the public of the Miramichi region. There is no cost for this program.
Both English and French sessions will begin Monday, January 29 and will run for one hour each week for 10 weeks. To register for the program or receive more information, parents can call 623-6363 or toll free at 1-888-623-6363. Seating is limited and pre-registration is necessary
The Parent-Child Mother Goose Program focuses on the pleasure and power of using rhymes, songs and stories together to help parents gain skills and confidence to give their children healthy early experiences with language and communication.
Cathy Healy and Kim Aridano are Speech Language Pathologists with the Parle-Moi/Talk with Me program and will be helping facilitate the sessions in the community. "We believe parents are their child's first and best teacher. We also believe that parents can set the stage for school success by encouraging healthy language experiences," Healy says.
Aridano adds that studies show school success is directly related to early language skills. "Children who rhyme well learn to read more easily once they are in school."
The English session of the Parent-Child Mother Goose Program will be held each Monday in the community room at Sobeys in Douglastown. The French session will be each Monday at the Centre Communautaire, Carrefour Beausoleil. The Rogersville program will be held at the Club d'Age d'Or beginning February 1. The program will be held from 10am-11am each morning.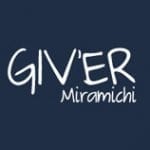 Giv'er Miramichi is about "What's up, what's new, what's happening". We are focused on building people up, supporting one another and celebrating our successes.