Stepping Out with Mango keeping you motivated in winter
Looking for a way to fight off winter blues, or maybe drop those 10 pounds you accumulated over the holidays? Mango wants to help the community this winter by offering a second session of its Stepping Out with Mango program. After the success of the initial Stepping Out with Mango program, the group is ready to begin a second session on January 15.
The MRHA's Mango program started this initiative in September 2006. At the time it was a new program to the community. Stepping Out with Mango is a 12-week program which will be offered to all members of the public and is accessible in the communities of Newcastle, Chatham, Carrefour Beausoleil, Blackville, Rogersville, Néguac, and Baie Ste. Anne. This program is designed to help people increase their physical activity.
Five hundred and seven people registered for the first 12-week session which wrapped up the week of Dec. 11. Several workplaces in the area offered the program as a workplace wellness initiative and the public of all ages from Néguac to Blackville laced up their sneakers, strapped on their pedometer and headed out to increase their physical activity.
As a participant in the program, each person gets a pedometer- a tiny instrument that counts every step the person takes. At the end of the day, participants record the number of steps they take. Each week they set new goals for themselves and gradually try to increase their daily steps over the 12-week period.
In addition to wearing the pedometer, participants also attend four 30-minute group support meetings facilitated by a trained program leader. In these meetings, the group is encouraged to determine weekly goals and progress is shared. Participants receive tips on how to be more active and ways to increase their steps. There is also nutrition sessions offered in the communities.
"Stepping Out with Mango is a program that can be easily used by an individual, family or workplace," says Mango coordinator and dietitian Jacqueline Noseworthy. "This program fits into the busiest of lifestyles. It's a great tool to help you on your way to a more active and balanced lifestyle."
"We realize it is hard to be motivated in the winter. That is why Stepping Out with Mango is perfect to help keep you concentrated on your level of physical activity each day. This program will help motivate you to bundle up and walk or stay inside on a treadmill. Other winter activities can still count towards your daily steps like: skiing, snow shoeing, and skating with the pedometer conversion."
Mango is committed to fighting overweight and obesity in the Miramichi region by offering initiatives dedicated to increasing physical activity levels and encouraging healthy eating to the residents of the region, says Noseworthy. "We are excited to offer the second session of this program. Having had 507 people register in September was phenomenal for us."
Getting started
If being a participant in the Stepping Out with Mango program interests you, call 623-3503 and register for a session in your area. Mango will inform you about the session nearest you and what date and time it will begin. Seating will be limited in each community session. To be a participant in this program, there is a cost of $20, which includes your pedometer, the group sessions by a trained leader, nutrition sessions and a welcome kit. After the program is over, the pedometer and the kit are yours to keep.
Mango is a population-health based community program that promotes healthy eating and active living throughout the region. Its' goal is to decrease overweight and obesity by 10% by the year 2008 through initiatives such as this one.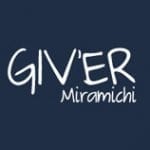 Giv'er Miramichi is about "What's up, what's new, what's happening". We are focused on building people up, supporting one another and celebrating our successes.