Program unveiling to be held at conference
The Women's Wellness Program at the Miramichi Regional Health Authority (MRHA) will unveil its logo and slogan during the second annual women's conference being held tomorrow, March 8.
The Women's Wellness Program was formed as a result of a successful partnership with the Beausejour Regional Health Authority in January 2002. This partnership's mandate was to increase awareness for a need of cervical screening in women. However, years prior to that, statistical data revealed a need for this type of program in the region. A weekly pap test clinic was established to provide alternate resources for the female population who didn't have access to yearly exams.
In 2004, a Women's Wellness Program and a committee made up of health care professionals and community citizens was formed. A community needs assessment was completed and results indicated the female population wanted more information on health issues such as overweight and obesity, breast cancer, stress, back pain, heart disease and blood pressure.
The program will unveil its new logo, slogan and pamphlet during the opening of tomorrow's conference. The design of the logo is a daisy representing regeneration, new growth and simple beauty while the soft pastel colors represent the strength, elegance and the complexity of a woman's anatomy. The slogan, which was penned by an MRHA staff member, Beth Murray is 'Lifestyle to Health'.
The unveiling will be before an audience of 120 women who have registered for the second annual women's wellness conference planned each year in recognition of International Women's Day.
During this year's conference, women will enjoy presentations by Community Non-Profit Task Force leader Claudette Bradshaw. Following Ms. Bradshaw, an informative presentation on the topic of Breast Health offered by Dollena Warren-Giguère, a registered nurse from Sherbrooke. The afternoon will be enlightening as well as the attendees will learn skills of financial planning with expert Jocelyne Browne of Credit Counselling Services of Atlantic Canada. The day will end with local author Judy Bowman as she helps every woman express the importance of their own life story.
For more information on the Women's Wellness Program, call 623-6136.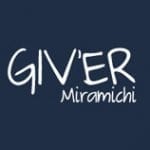 Giv'er Miramichi is about "What's up, what's new, what's happening". We are focused on building people up, supporting one another and celebrating our successes.