Second annual conference labelled a success



The second annual women's wellness conference is being labelled a success by organizers and attendees.
Over 90 women from the Miramichi and surrounding areas attended the one-day conference on March 8 at the Miramichi Regional Hospital in celebration of International Women's Day 2007. The conference, "A Day for Women" was an initiative of the Women's Wellness Program committee of the Miramichi Regional Health Authority (MRHA). Health professionals from the MRHA and community volunteers worked together to offer this enlightening day for the second year in a row.
During the conference, the program unveiled its new logo, slogan and pamphlet. The design of the logo is a daisy representing regeneration, new growth and simple beauty while the soft pastel colors represent the strength, elegance and the complexity of a woman's anatomy. The slogan, which was penned by MRHA staff member, Beth Murray is 'Lifestyle to Health'.
"Again this year, we are very pleased with the outcome of the conference. Seats were filled in just three days and we know all the women who attended enjoyed themselves," says Jacqueline Poitras, the Women's Wellness Program nurse and chair of the organizing committee.
"We know now that females in our region want to be informed about health issues. They are interested in health promotion and are being proactive by attending educational sessions that we provide for them. The comments received were positive and these comments will help us plan future conferences," she added.
"A Day for Women" was made possible by the support of many generous sponsors. A thank you is extended to the organizations who donated to the event.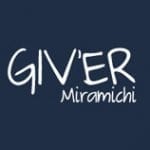 Giv'er Miramichi is about "What's up, what's new, what's happening". We are focused on building people up, supporting one another and celebrating our successes.