Giant yard sale benefits Juvenile Diabetes research
A family dealing with Juvenile Diabetes is hosting a giant yard sale this weekend. Proceeds from the sale will benefit research for a cure.
The event was conceived and organized by Jennifer Keenan. The Barnettville resident and her husband Jason have two children living with the disease. Almost a year ago, and within three weeks of each other, their daughters Jules and Abby were diagnosed.
"It was absolutely devastating," Keenan said. "It changes your whole life. You have to learn to test their sugar, to watch their carbs, to give them their insulin. You feel like your whole life is about this disease."
Diabetes results when an individual's blood glucose, or blood sugar, is too high. With Juvenile Diabetes the pancreas does not produce insulin, a hormone that helps glucose get into the cells and provide them with energy. Without insulin, too much glucose stays in the blood. Eventually, high blood glucose can lead to serious problems with the heart, kidneys, eyes, nerves, gums and teeth.
Living with the illness has now prompted Keenan into action, communicating with other families in the same situation, while raising awareness of the disease and funds for research. This year, Keenan and others in her family will be participating in the "Walk for the Cure" on June 3 in Moncton and, of course, hosting the yard sale this weekend.
"Support for the sale has been wonderful. People have been so generous and we are very grateful for everyone's help," she said.
Jules and Abby will also be helping out and raising funds. The girls, along with Jules' twin brother Samuel, will be selling Crystal Light at the event.
The yard sale is this coming Saturday, May 19, at the Anglican Church Hall at 293 Main Street in Blackville from 9 am to 3 pm. For information on how to donate to the Walk for a Cure, call the Keenans at 506-843-6081 or email .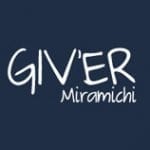 Giv'er Miramichi is about "What's up, what's new, what's happening". We are focused on building people up, supporting one another and celebrating our successes.