First Annual Jaclyn Rogerson Memorial Car Rally
For those of you who didn't know her, Jaclyn Rogerson was one of the most fun loving, spirited people I have ever known. She was a pharmacist at Jean Coutu in Chatham. She only came to the Miramichi a few years ago but in that time she was able to touch the lives of everyone she met. She was diagnosed with breast cancer in May of 2006 but she didn't let the disease keep her down. In the last year she made it her mission to find a cure for breast cancer, she rallied her friends and family and in only a few months we managed to raise over $14,000 and donated it to the CIBC Run for the Cure. This money is making a difference in Miramichi with the recent $100,000 donation to the digital mammogram campaign from the Canadian Breast Cancer Foundation. Jaclyn lost her courageous battle in May of 2007, less than a year after being diagnosed. We are raising money for the Run for the Cure. Last year Jaclyn came up with the idea of a car rally to raise money, this year we will carry on her legacy. We will be having a fundraiser car rally on September 15th at 2 p.m.. We can make a difference.
Where? The event starts and finishes at Jean Coutu in Chatham
How? Register a team (max of 4 per car) for $40
Please contact me at or 622-0459 if you have any questions. I look forward to hearing from you.
Thank you in advance,
Tracy Ahern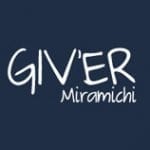 Giv'er Miramichi is about "What's up, what's new, what's happening". We are focused on building people up, supporting one another and celebrating our successes.