The New Brunswick Community College-Miramichi campus is celebrating twenty-five plus years in the region. The year 2006 marked the twenty-fifth anniversary of its establishment as a campus. Marie-Paule Theriault, principal, extends a warm and enthusiastic welcome. "We have so many friends in our community and this will be our chance to bring many of them together and have some fun." The celebrations are kicking off with an Old-Fashioned Fair and Career Day at Waterford Green on September 27 from 10 a.m. till 2 p.m. featuring the following events:

• Games + Activities for the whole family (organized by college staff and
students) – All proceeds will go to local charities.

• College information (will be available for prospective students)

• NBCC Miramichi Campus Trivia Contest (September 14-22)
• First Prize – One half the tuition waived for a 2007-08 NBCC Miramichi program
• Second Prize – Free tuition for any NBCC Miramichi Night School course delivered in the 2007-08 academic year.
*Watch for the contest ballot in the Miramichi Leader in September and see the college bookstore for further details.
These events are being held in conjunction with Historic Chatham Business District's Pumpkin Festival and APEGNB's famous Pumpkin Fling.

A history of the New Brunswick Community College – Miramichi campus will be released. This intriguing book traces the roots of NBCC and the campaign to locate a campus in Miramichi. It explores the explosion of the Learning Technologies and follows the development of the campus up to today's modern facility and its programming. "You will find this is a wonderful treat to read," says Theriault. "It has many, many stories about the people who have worked, studied, and taught here; that's what makes it so enjoyable."
A colorful and imaginative DVD is also due for release during the celebrations. It will provide information about the NBCC – Miramichi campus and will feature interviews with staff and students.
NBCC-Miramichi Campus will hold a Main 3-Day Event from Oct. 25th-27th, 2007.
More details to follow at a later date.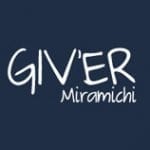 Giv'er Miramichi is about "What's up, what's new, what's happening". We are focused on building people up, supporting one another and celebrating our successes.