NBCC Fair & Career Day
Historic Chatham Business District
Pumpkin Festival & APEGNB Pumpkin Fling
Schedule of Events Saturday September 22nd, 2007
10 a.m. – 12 p.m. – Live Entertainment on Water St. – Rattle Cab Blues Band
Sponsored by: Historic Chatham Business District
10 a.m. Sidewalk Chalk Art / Chip Art Displays
Sponsored by: Edgewater Gifts & Gallery / NBCC Animation Students / Historic Chatham Business District
10 a.m. – 3 p.m. – Miramichi Physically Disabled hosting a BBQ on Water St.
12 p.m. Pumpkin Parade
Will start and conclude at Station Wharf ~ Prize for best pumpkin costume
Sponsored by: Historic Chatham Business District

Giant Rice Crispy Square Pie on Waterford Green
Created by the Chatham Rotary Club
Donations are to the Breakfast Program
NBCC Miramichi Campus is celebrating their 25th Anniversary
Come down and check out the many displays.
Corn Boil and BBQ by Highland Society
Greens Catering will be set up for all your munchies.
Anne Bracken Formals – Sidewalk Sale & Coffee/Tea/Donuts/KoolAid
12 p.m. Registration for the APEGNB Pumpkin Fling on Station Wharf
1 p.m. Pumpkin Fling begins at Station Wharf
Pony rides available for the children at Waterford Green
Country Charm Bakery – Pumpkin Cookies
Children Activities hosted by the NBCC
1 – 3 p.m. Pumpkin Pet Art
Decorate a gourd At Anne Bracken Formals on Water St.
Sponsored by the Historic Chatham Business District and Anne Bracken Formals with all donations going to the Breakfast Program.
Seed Spitting Contest Goldfish T-shirts on Water Street.
Pumpkin Desserts & Pumpkin Poetry by Ron Morrison at Saddlers Café
Pumpkin Carving demonstrations on Water Street in the afternoon
by Rupert Bernard & Joanne Cadogan
Live Entertainment at O'Donaghues Pub – Jens Jepesen in the evenings
Pumpkins donated by Bremner Farms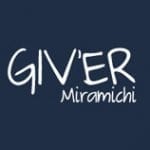 Giv'er Miramichi is about "What's up, what's new, what's happening". We are focused on building people up, supporting one another and celebrating our successes.