Women's Wellness Program partners with nurse practitioners to provide Pap Clinic
The Women's Wellness Program is partnering with nurse practitioners working at the Miramichi Medical Day Clinic to provide the region's Pap clinic. The Pap clinic will be held at the Miramichi Medical Day Clinic beginning in October.
"This partnership is a natural fit as these nursing professionals are skilled in performing Pap tests and internal exams," says Karen Copp, nurse manager of outpatient clinics who oversees the Women's Wellness Program. She says this new partnership will allow more time for the Women's Wellness Coordinator to provide community education regarding health issues that affect the region's female population.
The Miramichi Regional Health Authority has been operating a Pap clinic since 2002. The Pap test detects the presence of abnormal cells on the cervix of the uterus. If abnormal cells are detected early enough and treated adequately, the rate of recovery is extremely high. All women are encouraged to have a yearly pap test. The Pap test can be completed by a doctor, nurse practitioner or at the Miramichi Women's Wellness Pap Clinic at 627-PAPS (7277).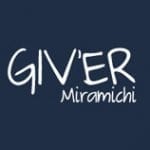 Giv'er Miramichi is about "What's up, what's new, what's happening". We are focused on building people up, supporting one another and celebrating our successes.