Ray Fraser will be launching his new book, WHEN THE EARTH WAS FLAT,
at BOOKS INN in Newcastle tonight, 7-9 pm
WHEN THE EARTH WAS FLAT
Remembering Leonard Cohen, Alden Nowlan, the Flat Earth Society, the King
James monarchy hoax, the Montreal Story Tellers and other curious matters
ABOUT THE BOOK
In this collection of memoirs, essays and sketches, Raymond Fraser writes
of such fascinating subjects as Leonard Cohen, Alden Nowlan, Leo Ferrari,
Queen Elizabeth II, Irving Layton, Al Pittman, Lord Mountbatten, F. Scott Fitzgerald,
Santa Claus in Chatham, the Flat Earth Society, the notorious Stewart
Monarchy in Exile, Halloween on the Miramichi, tabloid journalism, New
Brunswickers in Hollywood, evangelistic miracle workers and assorted
eccentrics met along life's way.
"Reading When The Earth Was Flat is next best thing to a voyage of
discovery, a ride on a runaway train, the thrill of a roller coaster, and
a front row seat in the theatre of the absurd. This wonderfully
entertaining book is the work of a gifted and accomplished author."
— Hilary Prince, THE GUARDIAN
* * *
For more on the book and other things click here.
"One of the finest I've seen." — The Phantom Fringer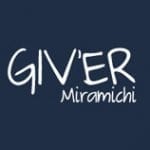 Giv'er Miramichi is about "What's up, what's new, what's happening". We are focused on building people up, supporting one another and celebrating our successes.