REMEMBRANCE DAY
The Royal Canadian Legion, Miramichi Branch No. 10 (Miramichi West) will hold their annual Remembrance Day Memorial Service at the Miramichi Civic Centre, King George Hwy., on Sunday, November 11th, 2007.
The Parade Marshall will form up the parade behind the Civic Centre, on Delano Avenue, at 10:30 a.m. Order of march will be #315 Royal Canadian Air Cadet Squadron Band, Colour Party, Veterans (including Korean Veterans, Peacekeepers, Canadian Armed Forces personnel, etc), Ladies Auxiliary, Police, Fire Department, Scouts, and Girl Guides. Any other group wishing to participate is welcome and asked to be at the civic centre by 10:15 for placement.
The general public is asked to be in their seats by 10:45 a.m. The parade will proceed into the civic centre at 10:45 a.m. and take their positions. 2nd Battalion Royal New Brunswick Regiment (North Shore) will provide the cenotaph guard at the civic centre.
The parade marshall will turn the parade over to Master of Ceremonies, Peter Murphy. The parade will come to attention for the playing of O Canada and the opening prayer. The memorial address will be given by a dignitary to be named shortly.
At 11:00 a.m. the Last Post – Two Minute Silence – Reveille will be observed by all in attendance as we remember those who have gave their lives during wars and conflicts.
Following the closing prayer and God Save the Queen the sentries will march off the cenotaph in preparation for the wreath laying ceremony.
Official wreaths will be laid by The Silver Cross Women of Canada; federal government; provincial government; municipal government; various levels of the Royal Canadian Legion; Ladies Auxiliary; and Veterans Affairs. Escorts will be provided by #315 Royal Canadian Air Cadet Squadron.
Family and organization memorials will follow. Wreaths and crosses are sold by Miramichi Branch 10 until November 8th. Orders may be placed by calling 622-1809. Wreaths are $40, Green Crosses $35; Small Wreaths $25 and White Crosses $20. Between five and seven dollars is profited from each memorial and the runds remain in the Poppy Fund to help ex-service personnel and their dependents. The Poppy Fund is a public trust fund registered under Charities Canada.
Following the service, veterans and their guests are invited back to the legion for a light lunch and stand-to. At 2:00 p.m. the doors will be opened to the general public to attend the afternoon entertainment with Good Times.
For further information, please call 622-1809.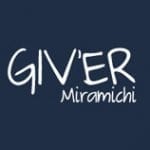 Giv'er Miramichi is about "What's up, what's new, what's happening". We are focused on building people up, supporting one another and celebrating our successes.