Tickets on sale for third annual Women's Day conference
Tickets go on sale today at area outlets for the third annual, A Day for Women, a one-day conference for women in the region.
Women of the region are encouraged to attend this one day event being organized by the Women's Wellness Program of the Miramichi Regional Health Authority in celebration of International Women's Day.
The Program committee wanted to celebrate the internationally recognized day by providing women the opportunity to be educated on women's issues and listen to informative presentations. The conferences held in 2006 and 2007 were filled with over 120 women attending each year.
This year's conference promises to be a great event. A change in venue, a well-known keynote speaker and other informative presentations will round out the day being held at James M. Hill Theatre from 8:30am-3:30pm.
In early January, the organizing committee announced CBC host Shelagh Rogers as this year's keynote speaker. Rogers is the host of "Sounds like Canada" which airs each morning on CBC radio. She lends her voice to a number of causes, in particular, mental illness, which will be her topic during her keynote presentation on March 6.
During the afternoon of this year's conference, women will be offered presentations by the region's own registered nurse Jeanne Breau as she discusses Women and Sexuality. Breau will be followed by registered dietician Margaret Young of Sobeys as she enlightens the crowd on her Ten Tips to Healthy Eating.
Other fun parts of the day will feature a musical performance by Miramichi's own Paula Foley and a Belly-dancing demonstration by Betsy Squires.
The 2008 one-day women's wellness conference will be held at the James M. Hill Theatre and this year, tickets will be sold at the cost of $10 per person. There will be no pre-registration. Tickets will be available February 6 at the following locations: Bill's Quick Mart (Chatham); Books Inn (Newcastle); Miramichi Regional Hospital Gift Shop; Neguac Health Clinic, Rogersville Health Clinic, Blackville Health Clinic, Baie Ste. Anne Healthy Clinic and the Miramichi Medical Day Clinic. Anyone from out of the region who wishes to purchase tickets, or for more information, please contact Stacey at (506)623-6136.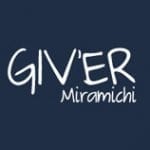 Giv'er Miramichi is about "What's up, what's new, what's happening". We are focused on building people up, supporting one another and celebrating our successes.