Multi-cultural Forum on the Unity of Mankind
co-ordinated by the Miramichi Baha'i Community
Where: Beaverbrook Kin Centre (former Town Hall on the Square)
When: June 18, 2008 (11am to 9pm)
The purpose of the Forum is to bring together individuals and groups drawn to the idea of "the unity of mankind" and who wish to express their perspectives on this theme as it applies to the Miramichi Community and the world today.
Pictures, posters, arts & crafts representing this theme will be displayed in the Hall during the day.
Videos, skits, drama, interactive computer sessions, music and dance relevant to the theme of "the unity of Mankind" are welcome and need to be scheduled into the evening's performances.
The perspectives of our Miramichi youth and the perspectives of our seniors is especially valued and encouraged for the Forum.
The Forum will be informal and open to the public FREE of charge. We hope people will come in, browse, share ideas with each other and help develop a spirit of unity within our community and, indeed, within the whole world.
There is no cost to any individual or group who wishes to take part in the Forum, other than their own time and labour involved in participating.
This is to be an "Idea Forum" and selling, raffling or requesting donations for any purpose is not to be conducted during the Forum.
Any individual or group wishing to participate in the Forum should contact Dan LaBerge by e-mail or June Scott at 627-1893 no later then May 16th.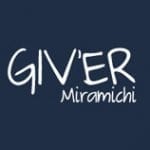 Giv'er Miramichi is about "What's up, what's new, what's happening". We are focused on building people up, supporting one another and celebrating our successes.