New Immunization Clinics to be offered
During this upcoming school year, a new immunization program will be offered as part of the New Brunswick Routine Immunization Schedule for school-aged children. Beginning in September, Miramichi Public Health will begin to offer the HPV vaccine to grade 7 girls and for this year only, grade 8 girls will also be offered the vaccine. Miramichi Public Health nurses will be offering educational sessions about the HPV vaccine for parents and girls in these grades. Dr. Michael Dickinson, pediatrician will also provide an educational session about the new vaccine. Parents will be informed of the date, time and location of these sessions.
The HPV vaccine has been shown to be effective in preventing the strains of human papillomavirus (types 16 and 18) that are responsible for up to 70% of all cervical cancer cases in Canada.
Prior to the immunization clinics, parents will receive a letter explaining the immunizations and a consent form that will be required to be returned to their home room teacher. Students who do not receive the vaccine during a school-based clinic can contact Public Health at 506-778-6102 to make arrangements to have the immunization.
For further information about these vaccinations, please contact Public Health at 506-778-6102.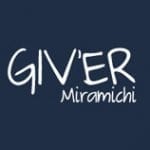 Giv'er Miramichi is about "What's up, what's new, what's happening". We are focused on building people up, supporting one another and celebrating our successes.