Frye Festival Celebrates 10 Years in Style

The Frye Festival is celebrating its 10th anniversary! The Festival will begin its celebrations today by unveiling the line-up for the 2009 edition, which will be held from April 17 to 26 in Moncton, NB. Canada's only, bilingual, international literary festival will bring together world renowned authors with audiences of all ages in a bilingual celebration of words.
Founded in honour of the famous literary critic Northrop Frye, the Frye Festival attracted over 16,000 attendees in 2008 and over 80,000 since its inception. This event receives its financing from all levels of government, generous corporate sponsors and individuals. The Frye Festival is managed by two employees who are supported by over a hundred volunteers.
"Ten days of festivities, ten days of wonderful discoveries, ten days to celebrate words and literature. What better way to celebrate the tenth year," said Stefanie Wheaton, Executive Director of the Festival. "We want to thank all those who have supported us from the very beginning and those who join us each year. Thanks to the public and our generous sponsors, the Frye can create these unforgettable moments between authors and readers."
There is truly something for everyone at this year"s Festival. Heading the tenth anniversary celebration is Jane Urquhart, author of five award-winning books: The Whirlpool, Changing Heaven, Away, The Underpainter, The Stone Carvers, and A Map of Glass. Urquhart will be joined on stage by Wayne Johnston and Miriam Toews for an evening featuring the best of Canadian literature, hosted by the Globe and Mail's Martin Levin. Wayne Johnston is best known for The Custodian of Paradise, his fictional account of former Newfoundland Premier Joey Smallwood and Miriam Toews is the celebrated author of A Complicated Kindness (winner of the Governor General's Award) and The Flying Troutmans.
On the francophone side, the famous French novelist Alexandre Jardin, well known for his successful Roman des Jardins and who just released Chaque femme est un roman in 2008 will be attending. Also attending is journalist, writer, columnist, and television director, Jean Barbe, creator of the weekly publication Voir and of the Montreal cultural newspaper Ici. His most recent novel, Le travail de l'huitre, was published in October 2008.
The Frye Festival is Canada's only officially bilingual literary festival. Every year thousands of New Brunswickers meet face-to-face with some of the brightest literary minds of our times. The Frye Festival has hosted winners of all the major international literary prizes bringing globally renowned literary talent to New Brunswick communities. Tickets for the 2009 edition of the Frye Festival can be purchased from the Greater Moncton ticketing network. For more information on the Frye Festival and its program, go to www.frye.ca.
Must-see events
The Frye Festival will celebrate its 10th anniversary in style with John Ralston Saul and Antonine Maillet, in an evening extravaganza on Friday, April 17. The Festival is planning another special evening with Alexandre Jardin, an excellent and intriguing French author. In addition, the public will be able to discover some of the best young writers in the province, hosted by Governor General's Award winning poet Serge Patrice Thibodeau and Gerard Beirne, UNB's Writer in Residence.
This year, the Antonine Maillet-Northrop Frye Lecture will be given by Monique LaRue, a novelist and literature professor at College Edouard-Montpetit. The title of the talk is "Between Two Books: the Writer's Time." She has published numerous novels, articles, and essays, such as La Demarche du crabe, for which she received the Grand Prix du Journal de Montreal in 1996, and La Gloire de Cassiodore, for which she received the Governor General's Award in 2002. The lecture will take place at noon on Saturday, April 25, at Moncton City Hall.
The film-writing workshop, a very popular annual event, will be hosted this year by the New Brunswick scriptwriter Tony Sekulich. Let's not forget, the traditional Soiree Frye, the many workshops, the Night Howls hosted by Paul Bosse at the Caveau, and the Frye Jam back by popular demand with Les Paeens and their guests. The official opening of the Frye Festival will take place at 11 a.m. on Friday April 17, at Moncton City Hall.
The importance of promoting literature among young people
The School Youth Program is a vital component of the Frye Festival that seeks to encourage students to discover the magic of reading and the written word. From April 17 to 26, the Festival will offer youth from schools all over New Brunswick the opportunity to interact with authors in their classrooms. Last year, more than 10,000 pupils met authors face to face, totalling 180 school visits. Over $6,000 was donated in new books to participating schools and the Festival gave $4,200 in prizes to writing contest winners and their schools. The traditional KidsFest – with its games, contests, author readings, and writing workshops – will take place on Saturday, April 25, at the Moncton Public Library.
Among the list of children's authors, the Festival will feature Sheree Fitch, one of Moncton's most loved authors. Sheree will do it all – from school visits, to workshops, and even an appearance at KidsFest! Other authors on the children's roster are Lesley Livingston, a trained thespian whose spoken word performer, broadcast journalist and musician Nova Scotia and Alain M. Bergeron, author of more than 100 children's books.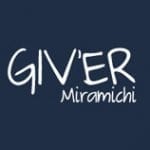 Giv'er Miramichi is about "What's up, what's new, what's happening". We are focused on building people up, supporting one another and celebrating our successes.