The network of Miramichi Young Professionals and Involved Entrepreneurs (MYPIE) will host its first Award Gala Ceremony on Saturday April 18th at the Miramichi Golf and Country Club. The goal of the event is to not only reward three members of the community in the area of community development, entrepreneurship, and profession or trade, but also to celebrate MYPIE's accomplishments to date on the river.
Awards will be presented for the following categories: MYPIE Entrepreneur of the year, MYPIE Professional of the year, and MYPIE Community Champion of the year.
To be eligible the candidates must be residents of the Miramichi or surrounding areas for at least two years and be preferably 35 years old and under. Each award has other specific criteria that must be met. Winners will receive a plaque as well as a significant package prize deal.
The selection committee, which will be specially put together for this event, will consist of representatives from the business community and organizations on the Miramichi. All eligible candidates can submit their applications through an open-nomination process (they can nominate themselves or a third party can on their behalf) and complete all required forms and documentation before April 6th 2009. Nominations forms can be obtained on the MYPIE website (mypie.ca), at Enterprise Miramichi, CBDC Northumberland, Miramichi Chamber of Commerce, and the City of Miramichi.
Nomination forms can be submitted to:
Enterprise Miramichi/MYPIE GALA 2009
Attn: Selection Committee
158 Wellington Street
Miramichi, NB E1N 1L9
Fax: (506) 622-2160
Email:
The gala will start off with cocktails from 6-7pm to be followed by a dinner with musical entertainment and the award ceremony. Deanna Graves, past president and current treasurer from MYPIE's sister organization, Fusion Saint John, will be the guest speaker of the evening. Table sponsorships are currently available and tickets for the event can be purchased through Enterprise Miramichi at the cost of $25 each; please contact Nadine Duguay or Kelly Sherrard at (506) 622-7890.
MYPIE 2009 AWARDS
MYPIE Entrepreneur of the Year
This award recognizes and celebrates the entrepreneurial spirit and success found within our younger demographic on the river. Determination, dynamism, and innovation are all words that represent well the young people involved in the business community of the Miramichi.
MYPIE Professional of the year
This award recognizes a young civic-minded person that has excelled in their career or industry to date. Whether the achievement touched the lives of a few in your office or of many in the community or in the field of work, this person has the dynamism, positive attitude, and drive to excel at what they do on a daily basis. This person is simply put an example to all in their fields.
MYPIE Community Champion of the year
Community Involvement is a trait that we find in all demographics; this award has been created to specifically recognize the drive, generosity, and commitment displayed by a young person in their community. Whether you are a high school student or a professional with 10 years of experience, you must have shown outstanding community involvement, leadership, and a civic-minded attitude. You are one of the "doers," a mover and a shaker that embraces community spirit and to whom the word volunteer really comes as a second nature.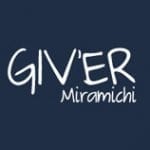 Giv'er Miramichi is about "What's up, what's new, what's happening". We are focused on building people up, supporting one another and celebrating our successes.