Carla Gunn at Words on Water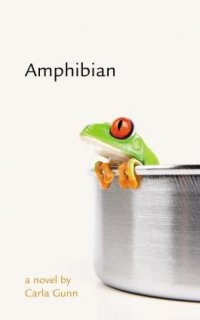 Date: Thursday, August 20, 2009
Time: 6:30pm – 9:00pm
Location: Saltwater Sounds, 1738 Water Street Miramichi, NB
Phone: 506.773.8010
Email:
This month the Words on Water series is happy to have Carla Gunn with us to read from her acclaimed debut novel, Amphibian.
Along with writing, Carla Gunn works as an occupational consultant and teaches psychology. Her writing has been published in the Globe and Mail, the National Post and heard on CBC radio. Raised in rural Miramichi, she now lives in Fredericton, New Brunswick.
About Amphibian:
Nine-year-old Phineas William Walsh has an encyclopedic knowledge of the natural world. He knows that if you wet a dog's food with your saliva and he refuses to eat it then he's top dog, and he knows that dolphins can sleep half a brain at a time. What he doesn't know, though, is why his grandfather died, or why waste-of-flesh Lyle always picks on him. Or why his parents can't live together — after all, when other mate-for-life animals have a fight, it's not like one of them just packs his bags and leaves the country.
To make it to-infinity worse, he's worried sick about what humans are doing to the planet, and his mother is worried sick about him. But shouldn't everyone be losing sleep over the fact that a quarter of all Earth's mammals are on the Red List of Threatened Species? So, when a White's tree frog ends up in an aquarium in his fourth-grade classroom, it's the last straw, and he and his best friend, Bird, are spurred to action.
Praise for Amphibian:
"Carla Gunn has fashioned (more likely been possessed by) an irresistible voice. I confess this kid grabbed me from the top and held me in tender thrall." – Globe and Mail
"Sometimes you start reading a book and fall in love by page two. That's what happened when I tore through Carla Gunn's novel Amphibian … [A] sparkling, memorable debut." – The Coast
————-
And, as WOW has each month, we have a theme for the evening. This month's theme is "Environment". So dig out any stories, songs, poems or skits with an Environmental theme that you've crafted and share it with an attentive and warm audience during the open mic portion of our evening. Or, if you'd like to share something with us that does not have to do with the theme, that's ok too. We'd love to hear from everyone!
Admission is free, but donations are happily accepted to help us continue with the Words on Water series.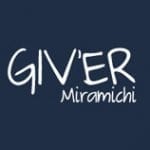 Giv'er Miramichi is about "What's up, what's new, what's happening". We are focused on building people up, supporting one another and celebrating our successes.