Fall Workshops on Photography and Editing

The Moncton Chapter of the Professional Writers Association of Canada will host two skills-building workshops this fall on photography and editing.
Renowned British Columbia photographer John Watson will present the first workshop on October 3 at the Moncton Public Library, from 9 a.m. to 4 p.m. "Take Photos that Sell" is a full-day session that provides the information and techniques for creating better photographs. The event is tailored for beginning photographers and writers/journalists who want to use their images to accompany articles, enhance a website or build a stock library.
Watson will discuss key elements for good photos and provide information on how to sell photos, what magazine editors are looking for, submission requirements, and more. There will be a presentation followed by a shooting session with 'assignments' and critiques.
Watson began his professional career as a weekend photographer for the local newspaper in Charlottetown, when he was just 15. After receiving his basic education at Holland College, John opened Imagemaker Photographic Studio in 1989. Four years later, he relocated his business to Vancouver, BC, but maintains ties with PEI and often returns to the region on assignment.
John's photographs have appeared on the covers of books and magazines in Hong Kong, the UK, USA, Canada and Europe, and have graced the inside pages of many publications around the world. To view his work, visit his website at imps.ca
Cost is $85 and includes refreshments. Participants are responsible for their own lunch. Payment is required in advance. Please pre-register by emailing your name and telephone number to and put "Photography Workshop" in the subject line. Payment is accepted by cheque made payable to "Moncton Chapter PWAC" and mailed to: Deborah Carr, 143 Taylor Lane, Hillsborough, NB, E4H 3C7. The deadline for registration is September 25. Class size limited to 15, so register early to avoid disappointment.

Editing Workshop
The second editing workshop, cheekily called "The Secrets of Sin (oops..Syntax)" will be led by by Frances Peck at the Moncton Press Club on November 6 from 9 a.m. to 4:30 p.m.This seminar looks at syntax from various angles, including how to shape it for different documents and readers.
Topics covered include subordination and coordination, periodic versus cumulative sentences, proximity of subject and verb, echo words, and special techniques such as ellipsis and isolation. This is the fourth in a series of very popular editing workshops Peck has given in the Maritimes (which means they fill up fast!).
Cost is $150 for members of provincial writers' associations and $170 for general public. Price includes the seminar, workbook, coffee breaks, and lunch. Advance payment is required to confirm registration. Registration deadline is October 23. Seating is limited to 25 participants, so register early to avoid disappointment.
For any queries, please email or call Deborah Carr at 506-734-2367.
Visit the Moncton Writers website at monctonwriters.ca for information on these and other upcoming workshops and events of interest to writers and editors.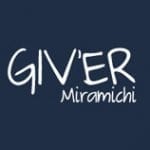 Giv'er Miramichi is about "What's up, what's new, what's happening". We are focused on building people up, supporting one another and celebrating our successes.