Women of Worth Training Session
This completely new training session will teach participants the value of doing what you love, charging what you're worth and feeling great about it. Many times as Entrepreneurs and especially as women we fail to recognize our inner dialogue about money, worth and value. By looking at our relationship with making money, the fear involved and how we sabotage our ability to get to where we want to be we can build confidence in setting your fees to where they should be. Each owner should be able to raise their rates by 10, 20 and maybe even 50% by the end of this course.
Participants will learn:
3 simple ways to know if you're charging enough (and what to do about it if you're not).
The one question you must start asking your clients right now.
How to powerfully & effortlessly present key information about your services so you can comfortably bring up the topic of price.
Know exactly what to say if your client asks what your fee is too soon)
Learn how to develop your own sales process.
Date: Friday, December 4th
Location: Rodd Miramichi
Time : 10h00am – 12h00pm
Registration fee: $20 per participant
Note : A minimum of 20 participants is required to give the workshop
For more information contact: Nadine Duguay (506) 622-5255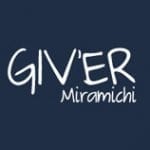 Giv'er Miramichi is about "What's up, what's new, what's happening". We are focused on building people up, supporting one another and celebrating our successes.