Horizon Health Network announces Strategic Framework
Horizon Health Network is pleased to announce its strategic framework.  Developed after extensive consultation with internal and external stakeholders and based on the Provincial Health Plan, the framework has been developed to guide Horizon Health Network operations from 2010 – 2013.
The strategic framework includes Horizon's  vision, mission and values as well as a set of goals and strategic initiatives aligned with the Provincial Health Plan and designed to support the achievement of the organization's' mission  and vision.
Our Vision: Leading for a Healthy Tomorrow
Our Mission: Care for People, Educate, Innovate and Foster Research
Our Values: Compassion, Respect, Integrity, Collaboration, Excellence, Sustainability, Innovation
"These are exciting and challenging times for New Brunswick and the communities served by Horizon Health Network," said Donald J. Peters, President and CEO.  "Therefore Horizon has chosen the vision 'Leading for a Healthy Tomorrow'. Horizon Health Network is not just a provider of health care services. It is a significant economic engine for the region, among the largest employers in the province, employing highly skilled professionals and leaders."
Horizon Health Network's focus is to ensure New Brunswickers and other persons that access its network of health care facilities and services receive safe, timely and quality care. Caring for People is part of our mission but also involves broader concepts such as preventative care, health promotion, population health, and more. Horizon must also encompass the broader issues that are having a profound impact on health – including education, innovation and research – the mission has been chosen to reflect all of these.
"As a new organization, it is important to ensure we have a clear vision for our future and values that are shared among our communities, our staff and physicians, and key stakeholders in the province," said John Laidlaw, Chair of the Board of Directors. "From our consultation process with those groups of people we have outlined our values to include 'Compassion, Respect, Integrity, Collaboration, Excellence, Sustainability and Innovation. These align well with both our mission and vision."
Also included in the strategic framework are detailed goals and initiatives.  These are specific priorities that will be used by Horizon Health Network to ensure the organization is fulfilling the mission and continually striving toward the vision.
For more detailed information on the new Horizon Health Network strategic framework, please log onto www.HorizonNB.ca.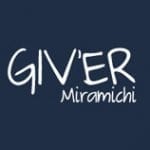 Giv'er Miramichi is about "What's up, what's new, what's happening". We are focused on building people up, supporting one another and celebrating our successes.