Pond Hockey Video Streaming Online
Internet video will again be part of the pond hockey weekend experience in 2010. The Rotary Club of Newcastle is pleased to announce that Bell Aliant and School District 16 will team up for their second year to bring streaming internet video to those unable to attend the pond hockey tournament in person.
In 2009 these partners filmed the opening ceremonies with Prime Minister Harper, as well as three games involving armed forces personnel from CFB Gagetown. The intent was to allow members of our armed forces in Afghanistan, some of whom had played in the tournament the year before, the opportunity to experience some of the action from home. The side benefit was that anyone in the world was able to tune in and watch as well, whether they were local individuals unable to physically come down to ice level or curious onlookers in another province or country. Tracking statistics indicated nearly 13,000 viewers tuned in. This included significant numbers in every province in Canada, as well as viewers in about 1/3 of the U.S. States, and 18 countries scattered across the globe, including such unlikely hockey followers as Taiwan and the Dominican Republic.
Although final details have yet to be worked out for the coming weekend, times and subject matter will be available at www.MiramichiRotaryPondHockey.com in the near future. Miramichiers are encouraged to pass along this link to family and friends who are unable to attend. "Having this online is a great tourism promotion for the Miramichi area, especially with the launch of the I Am Miramichi brand during the tournament" says co-chairperson Geri Mahoney. "The more people out there who get to see this event and what a great time it is, it can only be all good."
Jersey Day will be back again in 2010. Initially launched for the 2006 tournament and fueled by the entry in Hockeyville that year, Jersey Day is an opportunity for every Miramichier to wear their favourite hockey jersey on Friday February 5th. "We hope to see everyone in the community wearing their colors" chimed in co-chair Pat Perry. "Whether at school, work, or just walking down the street, we hope everyone will have a jersey on that day to make the statement that hockey lives here." The general public is encouraged to take pictures of individuals and groups wearing their jerseys and forward to for display in the 2010 website photo album.
With one week to go before the puck drops, the Rotary Club of Newcastle is very pleased and excited to have a record 104 teams participating. The cove promises to be a beehive of fun and activity, with lots to see and do. Spectators are encouraged to come for the action and are reminded that ice is slippery and to watch out for pucks. Entry is free.
The 6th annual Miramichi Rotary Pond Hockey tournament will be held at French Fort Cove on February 5th-7th, 2010, with the net proceeds going towards Rotary projects. See you on the pond!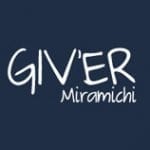 Giv'er Miramichi is about "What's up, what's new, what's happening". We are focused on building people up, supporting one another and celebrating our successes.