25th Anniversary of WFNB – WordsFall
The 25th Anniversary Celebration of the Writers Federation of NB will be held in Miramichi on October 16/2010. Special Guests Ray Fraser, Wayne Curtis, Deborah Carr, Cameron Gunn, Carla Gunn, Allan Donaldson, Doug Underhill and more to be announced.
Location:Beaverbrook House, Miramichi
10am: Workshop on self-publishing by Juli Watson. Reg fee $30 incl lunch.
12pm lunch
1pm Tribute to WFNB's Founding Members
3-5pm Book Launches, Readings
Location: Goodie Shop, Miramichi
6:30pm Open Mic Coffee House, Readings, Storytelling, Music
Admission by donation.Celebration evening, invited guests and Open Mic. Readings by Ray Fraser, Wayne Curtis, Doug Underhill, Carla Gunn, Cameron Gunn, Allan Cooper, and many others. Music by Roy Gould and special guests.
EVERYONE WELCOME!
For more information: www.wfnb.ca
Tel: 506-459-7228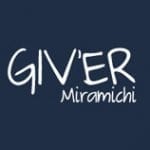 Giv'er Miramichi is about "What's up, what's new, what's happening". We are focused on building people up, supporting one another and celebrating our successes.