X-Weighted TV Star Coming to Miramichi
Paul Plakas has been training people for over 20 years and is the fitness expert on the TV show X-Weighted.  His brutally honest and sincere approach have made him a celebrity in the world of fitness and healthy living.  One of his biggest fans is local fitness instructor, Tobi Desveaux.  Tobi attended a seminar in NS last spring with Paul and asked him if he might be interested in coming to Miramichi.  To her suprise, he said, he would love to.  Paul spoke to over 200 Miramichiers last July and is planning a return visit to Miramichi this fall.
On Sunday, September 18 Paul will be at the Douglastown Recreation Center from Noon-2pm to present his nutrition and fitness seminar.  The seminar will focus on families and how to be Lean, Fit and Pain-Free in the 21st Century.  Paul works with families on X-Weighted and is very passionate about parents setting a healthy example for their children.  He will inspire you to eat well, get moving and find the motivation you have been looking for.  This seminar if for anyone who wants to live a better life! Visit Paul's website at www.paulplakas.com
Tickets are now on sale for this exciting seminar.  They will be available at the City Mass Registration on Saturday, September 10 or by calling Tobi Desveaux at 773-7697.
Fitness & Nutrition Seminar Featuring Paul Plakas of X-Weighted
Sunday, September 18
11:30am Meet & Greet,
Noon-2:00pm Seminar
Douglastown Recreation Center
Tickets $25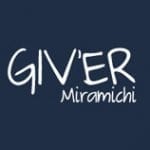 Giv'er Miramichi is about "What's up, what's new, what's happening". We are focused on building people up, supporting one another and celebrating our successes.