Vince Mullin, on Life, Work, and Happiness
Vince Mullin fills his downstairs workshop with a welcoming presence. Sitting back in a worn chair, next to a guitar still under construction, and farther down, a myriad of other stringed instruments in various states, it's obvious that he's a busy man. Outside, the nighttime sounds of King George Highway compose a distinctive soundtrack for the interview in his Newcastle shop. Owner of the famous Miramichi Opry Music store, Mullin has come a long way from his humble country roots.
"I grew up in the early years in South Esk and later years moved to the Sunny Corner area. I had a very normal upbringing, it was just hard-working, little bit of music on Saturday night, and that was pretty much how it went."
His father, Bill Mullin, owner and founder of the well-known Country Music Opry, was very much a part of his musical upbringing.
"I'd say he got me involved in music definitely, he was involved in it and got me exposed to it but even to this day we don't play a lot of music together, believe it or not. But y'know where he was a left-handed player, and I was right-handed, we always found it confusing to look at each other's hands on the guitar."
Despite his obvious musical roots, Mullin was relatively unsure of what to do with his life after graduation.
"To be truthful, I was never given any direction of any kind as to what I should even do, I don't even remember anyone saying I should go to a post-secondary education, so I ended up doing what most idiots would do, and went into steel fabrication, because my friends were going into steel fabrication."
This decision, while not awful, was nevertheless the wrong one for Mullin.
"I was fortunate enough to go into a good trade, but only by fortune, because I didn't make the decision, someone else made it for me."
Looking back, he offered a tidbit of advice for all those who face his previous predicament. "My advice to you, is think long and hard about what it is about, what it is you're going to be doing, and if possible, try to make it something you're going to enjoy doing each and every day for a lot of years. Even if it's not the biggest paying job, even if it's not the most glamorous job, money is not everything, happiness is everything."
Any tip on happiness from Mullin is one to be taken seriously enough, since after departing his job in the trades for his home business, he's become a changed person.
"There was a point in my life where I certainly did not stop to smell the flowers, I was a rough tough kinda tumble guy and it's been such a nice thing, and to be truthful, there was a time when I thought the world was full of bad people, and it's not full of bad people, it's full of good people." This inspiring quote comes after discussing some of the more heartwarming moments he's come into from running his store for the past six years.
"Two hours ago not even, a little boy came in here with one arm, looking for a guitar, and his mom didn't have much to spend on him, and he was so young, he didn't really even need one that played, we gave him a little electric guitar." Moments like those are few and far between, and in some cases the stuff of the silver screen, but Mullin has had his share of them over the years, and seems to relish each one.
But as with most stores, it's the customers, in a sense, that run the business, rather than the owner. After all, a business needs people to buy things, and in Mullin's case, break things, to stay profitable.
"That mandolin was brought to me in a manila envelope, literally it was broke all to pieces. I love it when I can take something like that and put it back together, especially when it was something their dad used, or their granddad, like a family heirloom." And because of his passion for music, and close bonds he forms with the community, his customers, and friends, he doesn't stop at repairs during regular hours.
"Well we do offer a 24 hour emergency service; because we know things don't always happen to performing musicians between 9am and 5pm." His support of artists doesn't stop there, either. He donates equipment, runs a website for local musicians to get their name out there, that in addition to treating every customer like an old friend the minute they walk in the door.
It's this flexibility of business and schedule that Mullin loves about running his store, "If I wanna take a few extra minutes with somebody, if I wanna help somebody, donate something to a kid, or be a mean old grouchy bugger, it's up to me."
The only downside to self-employment, in his eyes, is the fact that it never stops. "They say when you work for someone else, you stop working at 4:30, when you work for yourself, you don't leave the job at 4:30, even when you're eating you're thinking about it, when you're trying to fall asleep you're wondering about tomorrow, you don't quite take that home when you're working for someone else."
From humble roots, to a rough job, and finally a satisfying and lovable self-employment, Mullin has been through a lot in his life, and has no plans to slow down any time soon. As for his business, he sums it up best. "Well we try our best, we're not perfect. Like anybody we've probably made mistakes along the way and we'll probably make a few more. If we do we'll apologize, we'll start over and do it right.  Because so far, we hear people are happy, and thanks to you, and the guy beside you, and the guy beside him, and thanks to everyone because we're all richer because of it, y'know, because of everybody getting along, and because of music in general. I mean, what else do you know that will make people dance? Not much man, not much else."
This post was submitted by Adam Travis.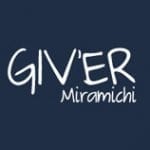 Giv'er Miramichi is about "What's up, what's new, what's happening". We are focused on building people up, supporting one another and celebrating our successes.