Mighty Miramichi's Biggest Loser Challenge 3 a Huge Success
Mighty Miramichi's Biggest Loser Challenge 3 ended recently and organizers say it was their best event yet.
"Every challenge we're involved with we learn a bit more to help us make the next one even better," said Jessica Sargent, one of the three dietitians who coached participants during the competition. "This challenge cost teams a bit more to participate in but it was also the first time we did mandatory work-outs twice a week. There was a big difference in how people responded. There were less people who dropped out. And overall the final results were better."
The third instalment of this healthy lifestyle competition pitted 56 people on 14 teams in a race to see which team could lose the greatest percentage of their body weight in 12 weeks. On Tuesday, December 6th, the Goodie Shop in Newcastle hosted the final weigh-in and awards ceremony.
"We're proud of all the great work that you've done," said Renee Murphy, Dietitian and Coordinator for the Mango Program. "It's been a really interesting journey for all of us. We've all learned different things, and some of the same things."
Before awarding prizes to the top three teams, Murphy emphasized some lessons everyone learned. "Our environment doesn't support healthy lifestyles," she said. "It's normal that it's hard."
She continued by sharing a couple of success stories. One participant arrived at her first fitness class using a cane and came to her second last class on her own steam, without using a cane. Another participant lost 12 inches in her measurements and received the good news from her doctor on the day of the final weigh-in that she was now cancer free.
"You can always do your best," Sargent said. "Your best today might be different than your best on a special occasion or in times of stress, but always give your best."
In total the teams lost nearly 500 pounds during the course of the challenge. In third place with a combined total of 7.2% of their body weight lost was the Retirement Miramichi Shrinking Ladies. They received gift certificates from Genesis Salon and Spa as well as a gift bag of Mango memorabilia.
It was a close race for first and second place. The second place team of The Born Losers lost 9.13% of their body weight and won $400. And Miramichi's Biggest Losers were the team Healthy by Choice who lost 9.74% of their body weight and won $800.
Danny Daigle was one of three fitness instructors who worked with the teams. He couldn't believe how advanced the participants were able to become in their exercise intensity during such a short amount of time. "You could see the apprehension on their faces when they came to their first class," he said. "At first they didn't know what to expect, but there was a big change as the weeks progressed. The advanced level they were able to achieve in only three months was amazing."
One challenge participant said it was very motivating to try and keep up with the other people in the class. "In the beginning it was total intimidation," she said. "But we were all in the same boat and everyone was nervous. You really didn't want to be the first person to stop so you'd push yourself beyond anything you ever thought you were capable of doing. Now I know what I can accomplish".
All of the participants said they were committed to continuing their healthy lifestyle journey after the challenge ended. "Now comes the hard part," Sargent said. "But they have all the tools they need to keep it going."
There is already a waiting list for the next Biggest Loser challenge and organizers have started planning the next event.  Visit the website for pictures of the winning teams, and to register for the new challenge starting in January. http://biggestloser.mightymiramichi.com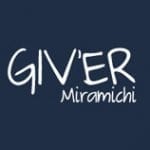 Giv'er Miramichi is about "What's up, what's new, what's happening". We are focused on building people up, supporting one another and celebrating our successes.