Slam Uncovers Gold Bearing Quartz Veins
SLAM Exploration Ltd. is pleased to report it has uncovered several quartz veins with visible gold within bedrock in a trenching operation underway at the recently acquired "Saint-Quentin" gold discovery in northwest New Brunswick. The vein in the trench photo contains multiple flecks of gold and is directly beneath the original gold-bearing boulders discovered by Tim Lavoie.
The gold-bearing veins are exposed over a strike length of 250m. The trenching operation continues to test for additional veins along strike by following boulders found by our prospecting team. Assays are pending on samples of quartz veins and wallrock.
CEO Mike Taylor considers the find "highly encouraging this early into exploration" and suggested that "this sets the stage for a very aggressive exploration campaign". The discovery of quartz veins with visible gold in bedrock increases the potential for an economical gold deposit at Saint-Quentin.
About The SAINT QUENTIN Gold Discovery: SLAM has an option to earn 100% interest in the NW Gold Project which comprises 251 units in 20 claims located near Saint Quentin, in northwest New Brunswick. Combined they cover 6275 hectares of highly prospective sedimentary rocks with favourable gold-bearing structures.
SLAM is a mineral resource company based in Miramichi, New Brunswick and currently has two diamond drilling rigs turning on its wholly owned Nepisiguit silver-copper-lead-zinc deposit in New Brunswick. In addition to the NW Gold project, the Company has a significant gold portfolio including the Reserve Creek gold deposit in Ontario. Additional information about SLAM and its projects is available at www.slamexploration.com or from SEDAR filings at www.sedar.com.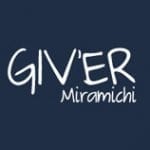 Giv'er Miramichi is about "What's up, what's new, what's happening". We are focused on building people up, supporting one another and celebrating our successes.