11th Day of Christmas: Christmas Kitty
Christmas Kitty
By Jacinta
"Oh, Daddy, please let me keep the kitty," cried four year old Jessica Wells.
Her father answered firmly, "Pipe down, Jess. You know we can't afford this kitten." He drove up to a subdivision entrance and dropped the kitten off, leaving quickly. Trying to get Jess to stop crying, Daddy told her, "See, Jess. Daddy left her in a safe place."
Jessica cried all the way home. She promised herself she would never be cruel to animals. Jess kept that promise by becoming a vet. She had nightmares for nights after her daddy abandoned the kitten. Jess kept dreaming of the kitten being hungry, or run over by a car. These dreams haunted her throughout her entire life.
Jess's daddy was so kind in all other ways. So she never understood his cruelty towards the kitten. The incident with the kitten left Jessica with a subconscious fear of abandonment. It affected her relationships, especially with her peers. She always put up a wall, when she found herself feeling close to someone.
Jessica moved to a farming community, becoming the town's livestock vet. She mostly treated horses, never wanting to be around kittens. Mental images from childhood emerged every time she saw a kitten. Jessica's business had picked up so much over the years; she needed an assistant.
For some reason, she found something wrong with every applicant. At the end of the first day of interviews, Jessica was mentally fatigued and hungry. She decided to close shop an hour early. Just as Jess approached the door, a man walked in. He was tall and handsome, with coal black hair and gorgeous blue eyes. "Wow!" thought Jessica. "A cowboy if ever I've seen one."
She wasn't accustomed to feeling attraction, especially not one so strong. Jessica suddenly felt bashful and tongue-tied. The cowboy just grinned sheepishly and told her he had come to apply for the position. Jessica fibbed by telling him the position was filled. He looked really disappointed. Jessica felt badly for lying, but it was too late to back down. They said good night and he left.
The next afternoon, the cowboy was back. He told Jessica, "I thought your position was filled. Then what's this?" He showed her a note from the front window, "Vet assistant needed. Apply within." Luckily, the last patient had left and Jessica wouldn't have to play this scene out in front of anyone.
She looked very uncomfortable, so the handsome applicant told her, "I'll make this easy on you. You need an assistant and I need a job. I have a little girl to support and the clinic where I worked just went out of business. Give me a try for a month and if I don't work out, you don't owe me a penny. Now let's shake on it and call it a deal." Jessica shook his hand and he held hers a little longer than was necessary. She felt herself blushing.
That trial month passed quickly. They got acquainted, exchanging names and life stories. Beginning to feel comfortable with her new cowboy friend, Jessica told him of her emotional fear of kittens and of the fear of abandonment that had haunted her all her life. Her cowboy, Owen Tate was easy to talk to. He had been a widow for a year. His wife, Alice had died of cancer, leaving him to take care of their four year old daughter, Caitlin. Owen and Alice had been high school sweethearts and married at 19. They had been married 10 years before his wife's death. Theirs had been a fairy tale life. Now, life was lonely.
One month slipped into two and soon a year passed. Owen had inherited his childhood farm and Jessica spent many happy hours visiting there with Owen and Caitlin. The farmhouse was a two-story, gingerbread style Victorian. It was beige, with pale yellow shutters and a stained glass door. There was a pond and an acre of farmland. It was such a wonderfully peaceful place.
When Jessica and Owen weren't working, they were playing with Caitlin. The three of them were inseparable; romping across the farmland like children, fishing in the pond, and picking vegetables from the garden. There was a chicken yard and the three of them gathered eggs. Owen laughed when Jessica fed the chickens and they pecked her feet. He was secretly dropping feed on her shoes. Jessica would scream, until Owen picked her up in his arms and carried her out of the chicken yard. The trio was having such a wonderful life together. Jessica had long ago let down her guard with Owen.
Christmas Eve arrived and the couple accepted an invitation to a neighbor's party after getting a babysitter for Caitlin. Dancing in the moonlight in the arms of her cowboy, Jessica felt loved and secure for the first time in her life. She knew she had found someone who would never leave her. Owen was someone she could trust for the rest of her life.
Christmas morning there was a knock on the door. On the porch was a basket. Inside was a precious black kitten. A note taped to the basket read, "Please give me a home and marry your crazy old cowboy." She looked up when she heard someone say, "Well, will you?" Jessica threw herself into her cowboy's arms and never left them again.
Jacinta is a 60 year old writer, residing in Louisiana with her husband, oldest daughter and puppy named Mimi. She hopes to become a children's book author and has frequently participated in Bread 'n Molasses magazine's 12 Days of Christmas event.
Leave a comment on this post and you'll be entered to win a signed copy of Miramichi author, Doug Underhill's latest book entitled Salmon Country. We'll draw one winner from everyone who comments on any of our special holiday themed posts for our annual Twelve Days of Christmas event!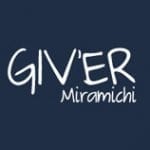 Giv'er Miramichi is about "What's up, what's new, what's happening". We are focused on building people up, supporting one another and celebrating our successes.