10th Day of Christmas: New Year! New Wishes!
New Year! New Wishes!
By Patricia Anne McGoldrick
Make a wish scroll for 2012. What are your wishes for this upcoming year? List three or five. Then start to make your wish scroll.
This is a wonderful gift for someone in your family, a friend or relative. It is also a special present that you can gift to yourself. As you move into the New Year, it is great to look back at your scroll, to see all those wishes coming your way!
Materials:
Paper— one-sided print sheets, a piece of wall paper, a soft card paper stock
Container— a small tube container or paper roll tube, or a dowel on which to attach scroll for a wall hanging
Utensils— Markers, pens, coloured pencils, stickers, cut-out pictures
Two steps:
First, select a piece of paper that is easy to roll up into a tube. Decorate it with a border, some trims, cut-out pictures, a sticker or two. Then print your wishes, or write in calligraphy, paste a list of wishes made on your computer (this is great for choosing a special font.)
Second, decorate your container as you wish—maybe, draw a large 2012 on the outside. On each side of the tube, insert a small hole. Attach a piece of yarn or string to it, if you wish to wear the scroll, or attach a dowel to the top and bottom of the scroll. Attach a cord or picture-wire to prepare for hanging the scroll on the wall. On a picture hook, hang your wish scroll!
By the way, this is a great individualized gift for other occasions as well.
Last year, I made a wish scroll as a wedding gift for my daughter and her husband. Wish scrolls can be made for any special celebration or new start in your life—a new home, a new job, even a brand new school year.
Also, a wish scroll can be a green opportunity, a chance to upcycle some items into a special gift!
Make a wish scroll for the New Year!
Patricia Anne McGoldrick is a Kitchener, ON writer whose poetry and reviews have been published in the Christian Science Monitor, The WM Review Connection,  and Chapter and Verse.ca to name a few. Patricia is a member of The Ontario Poetry Society and the League of Canadian Poets. To find out more about Patricia or to read more of her work visit her website or blog or follow her on Twitter.
Leave a comment on this post and you'll be entered to win a signed copy of Miramichi author, Doug Underhill's latest book entitled Salmon Country. We'll draw one winner from everyone who comments on any of our special holiday themed posts for our annual Twelve Days of Christmas event!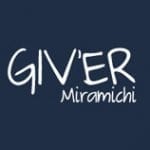 Giv'er Miramichi is about "What's up, what's new, what's happening". We are focused on building people up, supporting one another and celebrating our successes.