9th Day of Christmas: A Poem from Christopher Brown
Merry Christmas
So many people seem to have forgotten
the true meaning of Christmas spirit
so eager to spend; to receive and to give
they lose sight of what's important.
While gifts and the sort are rather nice and
It can be fun to get that special someone
the gift that lights their eyes when opened
I feel like there's more to Christmas than that
~
Every year, they trek to the stores
They beat the crowds to get their wares
Wrap them ever-so-delicately in beautiful
strips of paper; shades of colorful
With their ribbons and their bows
Their tags and their bags
Every year, the same old thing
~
I think people have forgotten the most important part
the part that comes; most naturally; from the heart
They go and spend all of their money
They stress about not having gifts to give
To me, it all seems to be quite funny
And rather; just a little bit; ridiculous
~
While gifts are nice, both to give and to receive
It should be about the time you spend with friends and family
For those are the moments to truly be treasured
Not some gifts of which wealth can be measured
The good times shared; the laughing and catching up
If you've missed out on this, I don't envy your luck
Because, for me, it has always been about this,
Not some random array of gifts
So, with 'this' in mind, I wish you all a Merry Christmas!
– Christopher Brown
Christopher Brown was recently published in the July/August 2010 edition of Bread 'n Molasses and currently lives in Graham, WA USA.
Leave a comment on this post and you'll be entered to win a signed copy of Miramichi author, Doug Underhill's latest book entitled Salmon Country. We'll draw one winner from everyone who comments on any of our special holiday themed posts for our annual Twelve Days of Christmas event!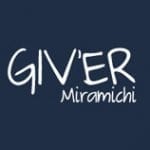 Giv'er Miramichi is about "What's up, what's new, what's happening". We are focused on building people up, supporting one another and celebrating our successes.