Annette Takes Your Stress Away
Annette Savoie, owner of Annette`s Alternative Healing in Miramichi, started her business out of her own quest to create the life she always wanted. She is passionate about helping people be the best they can be!
Annette uses a holistic approach to revamping people`s lives by helping people heal from past traumas, identifying the emotional and energetic blockages in their body, helping them gain confidence and then motivating people to reach their highest potential.
"Find your passion and go for it!" she says. "Fear will get in your way at first but once you identify it and realize that fear is an illusion stopping you from getting what you want, you can go forward with it."
Whether you see her in private coaching or as a motivational speaker you will quickly pick up on her energy. Annette uses her energy to get people to step out of their comfort zone and reach for the sky. Having triumphed over many challenges herself she is a prime example that when you own your power you can do anything no matter what your challenges are in life.
"You have the power within yourself to have the life you always dreamt about. Many people think that this unrealistic thinking because most have been told settle for less," she says. "Did you know that at least 70% of people are unhappy in their workplace?"
With statistics like this Annette is determined to help employers realize that it is in their benefit for their business growth to have their employees happy and motivated.
"If you look at the most succesful companies in the world you will notice that they make it their duty to have employees who are recognized for their work, happy, and motivated which greatly increases productivity, creativity, profit and people want to come to work," Annette says. "As a leader you have a responsibility to them! Survey after survey shows that employees dont need more pay, they need a positive atmosphere that will help them grow as individuals and also help them create a balance in their life."
Annette can help with her energy by giving a motivational speaking that is bound to motivate your employees to give their best and to learn to deal with stress.
"Stress is a daily part of life but it doesn't have to affect people negatively. There are techniques to deal with it effectively and that is what I do in my individual sessions or in conference," she says. "I help take away your stress."
Annette offers a variety of conferences that will touch leadership, energy, motivation, wellness, women and adolescents. If you have any questions please email her at or phone 506-625-2240.
"The journey of life is sometimes challenging but I will teach you to take the challenges you have and make a difference in this world. That`s what we're all here to do:  is be the best we can be!"
For more information visit Annette's Alternative Healing website.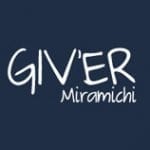 Giv'er Miramichi is about "What's up, what's new, what's happening". We are focused on building people up, supporting one another and celebrating our successes.