Eel Ground Fly Fishing & Sportsman Show
Eel Ground First Nation's School and Community will be hosting a fly tying, fly fishing and sportsman show on Friday March 30th and Saturday March 31st.
"Our plan is to host the activities in the Eel Ground Office Complex," says John Hawkes, principal of the Eel Ground First Nation School. "On Friday the 30th, we plan to have 10 or more fly tyers teaching – the students of our school from 1 to 3pm and the public from 4:30 to 7pm."
Also on the schedule for Friday is a fly tyers discussion (and lies) from 7 to 8:30pm.
Many activities are planned for Saturday March 31st from 9am to 4pm including boats and ATV displays in front of the community centre, a fly casting demonstration with Betty Ward and David Bowie at 11am, an archery demonstration from George Muir and company at 1pm, and displays from outfitters, fly and tackle shops, professional guides of Miramichi, authors, the Department of Natural Resources and more.
Admission will be charged to the general public only on Saturday and will be $5.
"We will be charging a fee of $25 for each company present. Hopefully many contacts will be made and important information exchanged," Hawkes says. "The money received from this event will go towards a June Fair for the K4 to grade 4 students of Eel Ground First Nation School and to the Eel Ground Group Home for teens."
Soup, tea and coffee will be available for a modest price on Saturday.
"Presently we have nine fly tyers confirmed for Friday," Hawkes says. "We need more. If you know someone who wants to help, then please email me. Fly tyers will be able to sell their flies on Saturday the 31st. If the fishing is as good as last year , then we better be prepared."
If you are interested in participating in this event, contact John Hawkes at 506-627-4615 or by email at .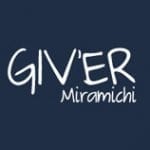 Giv'er Miramichi is about "What's up, what's new, what's happening". We are focused on building people up, supporting one another and celebrating our successes.