Miramichier Wins Snow Thrower
The first days of January were very busy for Liz Donovan of Renous, NB. She spent many hours on her computer rallying Facebook friends to vote for her essay submission to The Weather Network's "Why is Your Winter Troy-Bilt Tough" contest.
Thanks to all her work and the efforts of hundreds of Facebook friends, Liz won a Troy-Bilt snow thrower, worth over $1200. There were only five winners across Canada and Liz took the prize for the Atlantic Region.
"I was so amazed and overwhelmed by all the support I had behind me throughout the contest," Liz says. "I had over 200 of my Facebook friends voting for me and many, many friends of theirs which were not even visible to me!"
The contest started on January 2, 2012 and ran until the 13th.
"I only found and entered the contest on January 6th, so I was almost five full days behind in votes when I submitted my entry. But it really was a lot of fun and a lot of time spent on the computer," Liz says.
She was able to monitor her progress during the competition through a listing of the top five stories from each region that was constantly updated.
"I tried not to overload everyone's news page by sending a lot of personal one-time messages looking for votes. I did do a morning and evening reminder status update. I wanted everyone to know where I was in the standings. Hope I didn't annoy people too much," Liz says with a smile. "In the 'Official Rules' it stated the top 10 vote recipients in each region would be entered into a randomly selected draw. So even though I knew I was the top vote-getter in the Atlantic Canada region, I'm not sure if I won through a draw or because of the votes I received. Either way I won thanks to all my Facebook friends!"
Liz says there really is no way to describe how overwhelmed she was with the response from her friends on Facebook.
"I was really at a loss for words most of the time."
She posted this thank you on the contest's Facebook page:
"I want to thank each and every one of you from the bottom of my heart for all your support!!! Friends, family and friends of friends … I'm speechless, totally in awe!!!! And hey TROY-BILT because of my entry there are HUNDREDS more people now aware of TROY-BILT. Thanks for the chance to participate. It sure was a fun week! (Even though I drove most of my friends crazy, I love them all.)"
Here is Liz Donovan's winning essay:
It's all about the Kids
Our winters are really 'Troy-Bilt Tough' because we have a really long driveway and many, many big storms. On top of that my husband builds a winter wonderland in our big backyard every year for our three granddaughters. He keeps walking trails to all the slides, igloos, castles, snow horses, snow-built snowmobiles, etc. He does this all by using a shovel and snow scoop!
It really becomes 'Troy-Bilt Tough' when most storms regularly drop at least a foot of snow! We must hire someone to plow the long driveway and the plow man destroys all the front of the wonderland. That Troy-Bilt 28" snow thrower would allow my husband to clear the driveway himself without destroying all his hard work, he could even get all his walking trails cleared before the next storm thus allowing our grandchildren to invite all their friends to join them in their winter fun.
As it is now he won't allow the other kids because it's impossible to get all the trails clear because of the way our driveway meets the wonderland. He is continually redoing and redoing by hand which takes FOREVER! So many kids would have so much fun sliding and playing if he had that "Troy-Bilt Snowblower" to help with our 'Troy-Bilt Tough Winters'!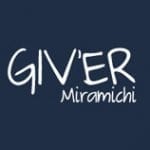 Giv'er Miramichi is about "What's up, what's new, what's happening". We are focused on building people up, supporting one another and celebrating our successes.