Miramichi Fishing Report for March 22, 2012
Welcome to another season of angling! Although a tad early for actually getting "on the water", it nevertheless is time to get into the mood. There is no better way to do this than by attending the Annual Fly-Fishing Show.
However, this year there is a change in format for the better. This year everything is bigger and better with a large increase in the number of exhibitors. The Dieppe Fly-Fishing Forum, usually held at the Dieppe Community College, is moving to the Moncton Coliseum, and is combined with the annual boat show and outdoor sportsman show. So anglers will get "three for the price of one".
And it's not just for the men. More and more ladies are sharing the angling experience. As a matter of fact, one of the key-note speakers is Kathryn Maroun. She is originally from the Halifax area and currently has her own TV Fishing Show. She will be sharing many of her experiences and expertise during her presentations.
The event is a week earlier than usual, thus the earlier beginning of this column. Everything starts this Friday, March 23 at noon at the Moncton Coliseum/Arena complex and runs through Sunday. Daily times are Friday: noon until 9 p.m., Saturday: 10 am until 5 p.m., and Sunday from 10 am Sunday to 5 p.m. Daily entrance fee is $8.00 Adult, Senior/students: $7.00, with Youth under 10 free. A Weekend pass is $ 15.00
Don't forget the ASF and New Brunswick Salmon Council Moncton Annual Dinner & Auction at the Crystal Palace Convention Centre on Saturday March 24th. For more information, contact Geoff Giffin at
Below is a list of presentations, exhibitors and authors.
Friday March 23rd, 2012
2 – 5 PM Fly Casting Certification program (FFF)- Dennis Grant (Meeting room at the Coliseum)
6 PM Picking a Winner – Paul Marriner
7 PM Fishing trips of a lifetime- Kathryn Maroun
Saturday March 24th, 2012
11 AM Substitute Feathers and Hackle- Bryant Freeman
1 PM What I caught- Kathryn Maroun
2 PM Fishing the Mackenzie River – Paul Ostiguy
4 PM Fishing the Restigouche River Lodge – Bill Harnett
Sunday March 25th, 2012
11 AM Quebec North Shore Rivers are more accessible than we think – Jocelin LeBlanc
1 PM Tying a Spey Fly – Bob MacDonald
3 PM Crown Reserve Angling Opportunities In The Miramichi Watershed- Debbie Norton
Fly Casting Aisle
Friday March 23rd, 2012
5:30 PM Casting for Beginners- Steve Smith (Casting Instructor)
6:30 PM Fly casting Faults and Fixes- Steve Smith (Casting Instructor)
Saturday March 24th, 2012
11:30 AM The uses of switch rod- Denis Bellichero (Casting Instructor)
1:30 PM Learning the Double Haul – Steve Smith (Casting Instructor)
3 PM Spey rod fly casting – David Bishop from Hardy & Greys
Sunday March 25th, 2012
11:30 AM Teaching Women to Fly Fish- Kathryn Maroun (Casting Instructor)
1:30 PM How to improve your single hand casting (distance & accuracy)- Rick Whorwood (Master Casting Instructor)
3:00 PM Spey Casting Advanced Techniques- Courtney Ogilvie, BC Professional Guide
Guest Fly Tiers: Bryant Freeman, Rodney Colford, Dwayne Miller, Bob MacDonald, Michel Paquin, Catherine Gagne, Michael McKinnon, Jerry Allain, Nick Clory, Jerome Molloy, Chris Edmund, Arnold Foote
Authors: Doug Underhill, Paul Marriner, Jim Marriner, Damian Lee Welsh
With the "Spring Heat Wave" this week, the ice in many rivers is an endangered species. On Tuesday of this week, Dave Ingersoll took a drive to the Wayerton Bridge area on the Northwest Miramichi and snapped some photos which he shares with us.
Next week, I'll look at some preparations for the up-coming season and have information on another Fly-Fishing Forum, albeit a bit smaller to say the least, that will be taking place the weekend after the Moncton show. This will be held at Eel Ground.
So whether you are a boater, hunter, angler, and just love the out of doors, the Coliseum is the place to be. Hope to see many of you in Moncton this weekend!
TIGHT LINES
Doug
NOTE: Late Wednesday evening in Halifax at The Atlantic Book Awards, it was announced that Salmon Country: New Brunswick's Great Angling Rivers has been short-listed for this year's Best Atlantic Book Award. Salmon Country is the work of Editor Jacques Heroux, photographer, Andre Gallant and author Doug Underhill. It was published by Goose Lane Editions of Fredericton, NB.
Salmon Country is coffee-table in style with a nice combination of photographs, text and fly patterns. It sells for $45.00 and will be available during this weekend's forum in Moncton.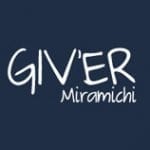 Giv'er Miramichi is about "What's up, what's new, what's happening". We are focused on building people up, supporting one another and celebrating our successes.