2012 Far Horizons Award for Poetry Call for Entries
The Malahat Review invites emerging poets from Canada, the United States, and elsewhere to enter the Far Horizons Award for Poetry. Eligible poets have yet to publish their poetry in book form (a book of poetry is defined to have a length of 48 pages or more). One prize of $1000 (CAD) is awarded. Poets contributing to The Malahat Review have won or been nominated for National Magazine Awards for Poetry and the Pushcart Prize.
Entries must be postmarked by May 1, 2012.
This year's judge is Mary Dalton. Born in Lake View, Conception Bay, Newfoundland, Mary Dalton has studied at the University of Toronto, Memorial University of Newfoundland, and the University of Liverpool. She now lives in St. John's and teaches in the Department of English at Memorial University. She was editor and co-publisher of the Newfoundland literary magazine TickleAce from 1980 to 1986. She currently edits the interdisciplinary journal Newfoundland Studies.
Emerging poets may enter up to three poems per entry. Each poem may not exceed 60 lines, excluding spaces between stanzas. There are no restrictions as to subject matter or aesthetic approach apply.
Entry fee required:
$25 CAD for Canadian entries;
$30 US for American entries;
$35 US for entries from Mexico and outside North America.
Entrants receive a one-year subscription to The Malahat Review for themselves or a friend. Poems previously published, accepted or submitted for publication elsewhere are not eligible. The Malahat Review makes no distinction between online and print publication. Work published by an online journal, on a personal website, or in a blog is considered to be previously published.
Entrants' anonymity is preserved throughout the judging. Contact information (including an email address) should not appear on the submission, but on a separate page that also lists the title of each enclosed poem.
No submissions will be accepted by email. No entries will be returned. The winner and finalists will be notified via email. Entrants will not be notified separately by letter about the judges' decisions even if a SASE is included for this purpose.
Only the winning entry will be published in The Malahat Review's Fall 2012 issue.
The winner will be announced on The Malahat's website and facebook page in July, 2012. The winner will also be interviewed by a Malahat volunteer and the interview will appear on our website and in Malahat lite, the magazine's monthly e-newsletter, in September 2012.
Send entries and enquiries to:
The Malahat Review
Far Horizons Award for Poetry
University of Victoria
P.O. Box 1700
Stn CSC
Victoria, B.C. V8W 2Y2
Canada
Email:
Telephone: 250-721-8524
Fax: 250-472-5051
Entrants wishing to pay by credit card may download and complete our Credit Card Payment Form then enclose it with their entries. For more information visit our website.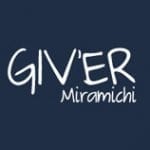 Giv'er Miramichi is about "What's up, what's new, what's happening". We are focused on building people up, supporting one another and celebrating our successes.