Miramichi Fishing Report for April 19, 2012
MIRAMICHI – We are off and casting.  From all accounts Opening Day last Sunday was terrific for most anglers with very good numbers of fish being hooked on all branches of the Miramichi system.  It was not unusual for a good number of anglers to limit out.
Some missed excellent fishing by cancelling reservations on rumours of the water being too low and that the fish would have left.  The water was low for the time of year, but still produced excellent angling.  Always check with the people who are actually on the river for the most accurate reports.
Even though water levels were low for the time of year, boats made their way to the water, and a couple of warm days increased the snow-melt, bringing up water levels by a foot on average.  A bit unusual was the fact that made anglers noted that the salmon were creating a lot of surface action by were swirling and splashing, which is usually only the case after the smelts have come in.  Some anglers even had luck using big dry flies.
In Quarryville one almost had to take a number to get a parking space with anglers out in great numbers on both sides.  I did manage to fish for about an hour, hooking two, landing a grilse and killing five mosquitoes!
One angler in a boat said that there were so many bass in the river they were bumping his boat, and a lot were being hooked and released as anglers were pursuing black salmon.
W. W. Doak and Sons in Doaktown said angling had been very good, especially on opening day.  Monday to Wednesday tapered off slightly, but was very much on the good side as well.  There was one 40-inch salmon reported.
Flies of choice were Renous Specials, Black Ghosts, Mickey Finns, Golden Eagles and Gray Ghosts.
Derek Munn of Ledges Inn in Doaktown and Mountain Channel in the Rapids area said the first couple days of the season were as good as we all expected. He noted they received about an 8 inch raise in water on Monday which should help for motoring boat for a few days.
Flies of choice were a variety of Maribou patterns.
Herb Barry Sr. of Herb's Fly Shop on the Station Road in Blackville said opening day was terrific, with most anglers catching their daily limit.  There were no monsters reported, but there seemed to be more salmon than grilse being hooked.  The water was raising some Tuesday and getting a bit dirty.
Flies of choice were Silver Smelts, Gold Smelts, Blue Smelts, Red Eagles and Golden Eagles, but almost any pattern was working.
Curtis Miramichi River Outfitting in Blackville said angling was very good on opening day, but a little slower since as the snow-melt had brought up the water about a foot and had made it dirty.  However, there were still good numbers being hooked.  Canoeing conditions are excellent, but the water is definitely a tad cool.  Anglers were reporting some big fish, but most were hooking grilse.
Flies of choice were Renous Specials, Blue Smelts, Mickey Finns and Christmas Trees.
George Routledge of George's Fly Shop at the Mouth of Renous in Quarryville said opening day was fantastic with many catching their limit.  The smelts were in above the Quarryville Bridge on Tuesday evening, but not many in the Renous.  Two people canoeing the Renous stopped at one pool and both limited out with all being salmon about 20 pounds.  The water was up about two feet from Sunday to Wednesday.
Flies of choice were Renous Specials, Miramichi Specials, Golden Eagles, and Black Ghosts.
Jim Laws of Miramichi Hunting and Fishing in Newcastle, Miramichi reported good fishing on opening day, and slightly slower since, but still good.  One boat-angler said there were so many bass in the river that they were bumping against his boat, while others said that they had caught and released a lot while angling for spring salmon.
Flies of choice were Renous Specials, Christmas Trees and Black Ghosts.
Syd Matchett of Trout Brook Fly Shop on the Northwest Miramichi said angling had been very good.  A couple of anglers caught their limit at Wayerton Sunday.
Flies of choice were Black Ghosts, Golden Eagles, Mickey Finns and Renous Specials.
Debbie Norton of Upper Oxbow Outdoor Adventures on the Little Southwest Miramichi said they had very good fishing on Sunday with angling slightly slower on Monday and Tuesday, but still pretty good over all.  The water came up about 10 inches Tuesday.
Flies of choice were anything you wanted to throw at them.
So take advantage of the decent weather and get out and "on the water".
Thought for the Week: "Fish sense, applied in the field, is what the old Zen masters would call enlightment: simply the ability to see what's right there in front of you without having to sift through a lot of thoughts and theories and, yes, expensive fishing tackle"….John Gierach    (quoted in The Little Red Book of Fly Fishing).
E-Mail:
This one's about a rod rack for my truck:
http://theriverscourse.blogspot.com/2012/04/double-duty-pickup-rod-rack.html
Hope it gives you some "transport food for thought!"
Gary Tanner
Great Story from Ryan Jackman.  Thanks for sharing it.
Cheers,
Chris Weir
Until next week
TIGHT LINES
DOUG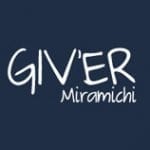 Giv'er Miramichi is about "What's up, what's new, what's happening". We are focused on building people up, supporting one another and celebrating our successes.