Miramichi Fishing Report for April 26, 2012
As we head into the second week of the season, there is no shortage of water. Foul weather (or should I say 'FOWL weather, as most say it's great weather for ducks when it's raining) certainly has brought the rivers up and in many cases, even over their banks. But that aside, the rain was needed, not only for the rivers, but for wells and fire-prevention. Bottom line is it certainly gave the rivers a good cleaning as I saw a lot of debris floating by on Wednesday. So generally speaking, today or by the weekend the water should clear and anglers will be back in numbers if we don't get any more precipitation.
The printed angling regulations are now available, so check where ever you bought your license, or drop into a DNR office.
Trout season for the Miramichi drainage begins on rivers, brooks and streams on Tuesday, May 1, 2012, while lakes do not open until May 15.
W. W. Doak and Sons in Doaktown said the river has come up about three feet on Tuesday, and was likely to rise more before cresting, but they felt anglers would be back out by today. Fishing had been decent prior to the rain, and the same was to be expected again as there seemed to be plenty of fish still around. There were reports of salmon measuring 40 & 42 inches. One angler had even caught fish quite high up on the Dungarvon.
Flies of choice were Christmas Trees, Golden Eagles, Renous Specials and Black Ghosts.
Derek Munn of Ledges Inn in Doaktown and Mountain Channel in the Rapids area said angling had been good until the rain when the river came up a good five feet, and he expected more of the same once the water dropped a bit. Tuesday was literally a wash-out. On Saturday they had hooked a 39-inch salmon. When he emptied his rain guage there had been 88 ml that had fallen.
Flies of choice were Black Ghosts, Renous Specials, Christmas Trees and some Maribou patterns.
Herb Barry Sr. of Herb's Fly Shop on the Station Road in Blackville said angling was good, but not exceptional with anglers averaging 5 to 6 a day. However, by Tuesday the water was in the alders, and very dirty. If there was no more rain, he expected good fishing by the weekend. Anglers were catching more salmon than grilse, and there seemed to be lots of fish still in the system. There were no smelts up that far yet.
Flies of choice were four main ones: Gold Smelts, Silver Smelts, Blue Smelys and Christmas Trees.
Curtis Miramichi River Outfitting in Blackville said the water had come up several feet on Tuesday, but angling had been decent, despite the weather on Monday. Those brave enough to go out did have luck. They predicted more good fishing as the water begins to clear and drop. There were some big salmon caught last week in the mid 30-inch range.
Flies of choice were Blue Smelts and Renous Specials.
George Routledge of George's Fly Shop at the Mouth of Renous in Quarryville said angling had been good, and anglers were even catching fish during Monday's ice pellets. There were still decent numbers of fish around, but the water was very high and dirty. The Renous was still muddy on Wednesday, but water levels were beginning to drop. The smelts had been in prior to the rain, but he was unsure what the high water would do to them.
Flies of choice were the Renous Special, along with Black Ghosts and Blue Smelts.
Jim Laws of Miramichi Hunting and Fishing in Newcastle, Miramichi reported good fishing until the rain came. By Tuesday the water was very high and dirty. Prior to the rain, salmon anglers reported a lot of bass, one weighing about 30 pounds before being released.
Flies of choice were the Smelt and Renous Special.
Syd Matchett of Trout Brook Fly Shop on the Northwest Miramichi said angling had been decent prior to the rain, with most boats getting their daily limit, but by Tuesday the water was high and dirty. Terry Haines of "Too Come To" Camp had hooked a 40-incher. Anglers were even catching fish as far up as McLaughlin Island and at Wayerton Bridge. He felt it should pick up again as the water dropped a bit.
Flies of choice were Christmas Trees, Mickey Finns, Golden Eagles and Renous Specials.
Debbie Norton of Upper Oxbow Outdoor Adventures on the Little Southwest Miramichi said angling was good until the water came up Tuesday. They anticipated good fishing again by Today or tomorrow if no more rain came. Most sports were close to their limits. A 46-incher was caught last Thursday.
Flies of choice were Golden Eagles, Black Ghosts, Renous Specials, Magog Smelts and Pink Panties.
Mark Hambrook, manager of the MSA Hatchery, said they were out with MSA Directors, a group of UNB students and MSA staff early this week angling for salmon around the Red Bank Bridge area. The purpose was to catch out-going spring salmon and then fit them with transmitters before releasing them again. Ten salmon were fitted with the new Pop-up transmitters which are very expensive. (There is an accompanying photo in this week's column). Any angler lucky enough to catch a salmon with one of these attached, is asked to carefully remove it rather than return the fish to the water with the device still attached. There is a $200 reward for each one returned, and they can be re-used on another fish.
As well, 25 salmon were fitted with acoustic transmitters, but those are inside the fish, and are used to track the fish as it leaves the river and goes into the Gulf of St. Lawrence and even through the Strait of Belle Isle.
They were set to install the smolt counting wheels when the water began to rise. They will finish installing three wheels this spring with the locations being on the Little Southwest Miramichi at Upper Oxbow Outdoor Adventures, AT the Mouth of the Sevogle where it flows in the Northwest Miramichi, and at Trout Brook on the Northwest Miramichi. Next week they are planning to set up the trap nets at Cassilis and Millerton to help count fish leaving the system. Later in the season they will be reversed to count in-coming fish.
Hambrook said that the annual Ice-Breaker event at the Woodsmen Museum in Boiestown has been sold out.
Although they did not see any bass around the Red Bank area, they heard that there were a lot around the Strawberry Marsh area at Newcastle.
In spite of an early ice-out, angling has been good and the fish have not gone out as some had thought.
So as the water clears and drops, take the opportunity to get out and "on the water".
Don't forget to show your support for our sponsors, because without them, this column would not be possible.
Check out Deals 4 Uin Miramichi for your grocery needs, and good Cuban cigars to celebrate getting back to the rivers.
Drop in Bryant Freeman's Eskape Anglers in Riverview to stock up on streamers for spring angling as well as any other equipment you may need such as a Reddington Rod.
Drop into J. H. Stewart Ltd. just down river near the Miramichi Hospital for all of your Harley Davidson, Suzuki and Honda products be they bikes, blowers, mowers or four-wheelers and accessories.
Miramichi City Surplus on the outskirts of Miramichi in the Lower Derby road offers a nice range of rods, reels, tackle, bait and other outdoors supplies and hunting needs. Be sure to also bring along your recyclables.
Condolences: Our thoughts and prayers go out to the friends and family of the Reverend Walter Lynch who passed away early Tuesday morning. Not only was Fr. Lynch an avid angler, but he was also a noted fly-tyer, including the classic patterns which he tied and framed.
Earlier this spring well-known angler and tyer Larry Tracy also passed away. He was probably best known for his design for the L. T. Special. He will be missed by many who knew him.
E-Mail:
Hope you like this http://www.worldfishingnetwork.com/users/cookster/blog/fishing-reports-232062.aspx
Thanks Donnie- W.F.N. ambassador.
Thanks for looking: http://theriverscourse.blogspot.com/2012/04/took-old-friend-fishing-todayand-got.html
Best regards,
Gary
Thought for the Week: "There is no such thing as the perfect cast. There are only casts that catch fish and casts that do not" Kirk Deeter from The Little Red Book of Fly Fishing
Atlantic Salmon Federation News
Tuesday, April 24, 2012
Rivernotes Back, and Atlantic Salmon Season Begins
~~~~~~~~~~~~~~~~~~~~~~~~~~~~~~~~~~~~~~~~~~~~~~~~
The ASF Rivernotes Blog is in operation again, with angling season open in some areas. There are a couple of notes on the new season, but most of it is devoted to the overwinter analysis of the excellent salmon runs of 2011.
http://atlanticsalmonfederation.org/rivernotes/
Preparing Atlantic Salmon for Migration with TRANSMITTERS
~~~~~~~~~~~~~~~~~~~~~~~~~~~~~~~~~~~~~~~~~~~~~~~~
ASF Atlantic salmon researchers on Friday were adhering satellite transmitters and surgically implanting acoustic transmitters on the Miramichi. Read the full story on this fascinating work that is helping unravel both salmon migrations and mortality at sea.
http://asf.ca/news.php?id=862
Atlantic Salmon caught in Bay of Fundy rivers worrisome
~~~~~~~~~~~~~~~~~~~~~~~~~~~~~~~~~~~~~~~~~~~~~~~~
Meanwhile on the Hammond River where all Atlantic salmon have been assessed as endangered, it appears some anglers have not got the word. Read more.
http://asf.ca/news.php?id=863
ASF 2011 Annual Report Available for Download
~~~~~~~~~~~~~~~~~~~~~~~~~~~~~~~~~~~~~~~~~~~~~~~~
For a different overview of the past year, ASF's 2011 Annual Report is available for download. Among the highlights are the advances in land-based aquaculture and the study detailing the high economic value of the wild Atlantic salmon.
http://asf.ca/docs/annual/asf-2011.pdf
Aquaculture continues to cause controversy
~~~~~~~~~~~~~~~~~~~~~~~~~~~~~~~~~~~~~~~~~~~~~~~~
In Nova Scotia, there continue to be strong calls for a moratorium until better understanding of the impacts. But in Ireland there has been published a report calling for aquaculture to be placed offshore due to the interactions involving sea lice.
http://asf.ca/news.php?id=864
~~~~~~~~~~~~~~~~~~~~~~~~~~~~~~~~~~~~~~~~~~~~~~~~
To keep track of breaking news on wild Atlantic salmon, use the Atlantic Salmon Federation's presence on Facebook. Log in, search for Atlantic Salmon Federation, and click "like".
Any advertisements/donations in support of this column are always welcome. Rates are $75 for one week, $65 for four weeks (spread out once a month or in a row), or $50 a week for the season. For more information contact Mighty Miramichi at 506-325-7668 or e-mail
Until next week
TIGHT LINES
DOUG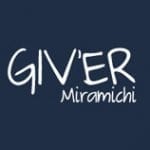 Giv'er Miramichi is about "What's up, what's new, what's happening". We are focused on building people up, supporting one another and celebrating our successes.