WFNB Literary Competition Results Announced
The Writers' Federation of New Brunswick (WFNB) announced the results of its annual literary competition today. The 2012 competition received a record number of entries. A total of 181 writers submitted their finest works of poetry and prose, twice the number that entered two years ago.
The biggest increase came from young writers, with 41 students entering the Sheree Fitch Prize for Poetry. WFNB president Rayanne Brennan said the strong showing bodes well for the future. "New Brunswick has a rich literary tradition that we hope will continue in their capable hands."
Numbers were also up for the non-fiction, manuscript and children's writing categories. "The submissions were exceptional both in terms of quantity and quality," said Brennan. "It's a reflection of New Brunswick's wealth of literary talent."
Executive Director, Lee Thompson added, "The judges, to a one, commented on the strength of submissions and the difficulty in making decisions."
The 2012 Writers' Federation of New Brunswick Literary Competition Results are:
Short Fiction, Judge Chad Pelley, NL
Winner
Deborah Wills, Sackville, NB, "Wood"
Finalists:
Dan Cogger, Moncton, NB, "Window Pain"
Dawn Watson, New Maryland, NB, "Emma Jean"
Honourable Mention:
Susan Moar, Miramichi, NB "For the Living"
Neil Sampson, Durham Bridge, NB, "Is June too Soon?"
Judge's special mentions:
Sarah Higgins, Cathy Fynn, Chris Wilson, Carol Steel, Dawn Torraville-Cairns, Ashleigh Belyea
Individual Poem, Judge Beth Janzen, PE
Winner
Thomas Hodd, Moncton, NB, "It May Not Mean Much"
Finalists:
Diane Reid, Upper Kingsclear NB, "Catfish"
Diane Reid, Upper Kingsclear, NB, "The Male Damselfly Speaks"
Honourable Mention
Katherine Adlam, Sackville, NB, "The Wake"
William O'Flahery, Moncton, NB, "Morning Fly-In of Mapleton Park Mallard Ducks"
Creative Non-Fiction, Judge Chris Benjamin, NS
Winner
Alexandra Chassé, East Molesey, UK, "Probably"
Finalists:
Anne Levesque, Strathlorne, NS, "The Lakshmi Juice Stand and Restaurant"
Diane Reid, Upper Kingsclear, NB "Daughter of Ocean"
Honourable Mention
Joseph Koot, Dorchester Cape, NB, "Spain's Camino: My Conversion?"
Lee Whitney, Kierstead Mountain, NB, "Come Wind, Come Weather"
Nathan White, Saint John, NB, "You Can't Blow the Dust off an MP3"
Writing for Children (age 4 –
, Judge Sara O'Leary, NB
Winner
Lisa Dalrymple, Fergus, ON, "Who's Got the Hiccupcakes?"
Finalists:
Alice Whitney, Kierstead Mountain, NB, "Four Happen B and Four Happen C Poems"
Wendy Kitts, Moncton, NB, "Does the Moon Feel Alone?"
Honourable Mention
Sherry Coffey, Fredericton, NB, "Big Bubba Shoo Shoo, That's Who"
Kelly Trevors Picard, Passekeag, NB, "Silly Sayings: Poems for Kids"
Sheree Fitch Prize for Writers Aged 14 – 18, Judges Brent and Valerie Sherrard, NB
1st, Nicola Seguin, Fredericton, NB, "Once"
2nd, Luke Haugen-Strand, Sackville, NB, "The Faery Kings"
3rd, Jena Hudson, Rexton, NB, "The Ocean"
Honourable Mention
Nicola Seguin, Fredericton, NB, "Anna"
Jadrien Hong, Fredericton, NB, "The Secret of Youth"
David Adams Richards Prize for Fiction, Judge Kathryn Kuitenbrouwer, ON
Winner
Corinne Wasilewski, Sarnia, ON, "Live from the Underground"
Finalists:
Cindy MacDonald, Riverview NB, "Eight Stories"
Ben McFarlane, Florenceville-Bristol, NB, "The Bonding"
Honourable Mention
Jerrod Edson, Mississauga, ON, "The Moon is Real"
Richard Toth, Bathurst, NB, "What is Given, like Baggage"
Alfred G. Bailey Prize for Poetry, Judge Sandra Ridley, ON
Winner
Kathy Mac, Fredericton, NB, "The Point of this Whole Implausible Set-Up"
Finalists:
Elena E. Johnson, Vancouver, BC "Edge Effect"
Kevin Spenst, Vancouver, BC, "Ignite"
Honourable Mention:
Jane Tims, Rusagonis, NB, "Water Fall"
Gerry Kemp, Fredericton, NB, "A Brief Drift"
Last year, the WFNB limited the contest to New Brunswick writers and WFNB members only in keeping with its mandate. Now in its 27th year, WFNB is the only organization in the province which brings together writers in all disciplines and at all levels of development to recognize, encourage and promote their work.
"The fact that in 2012 we had double the number of entries received when it was a national contest is both exciting and encouraging," Brennan said.
Cash prizes, totaling $1,700 will be presented to the winners at a Literary Awards Soiree in Sackville, May 5. The event is part of WFNB's WordsSpring, a semi-annual gathering that features a variety of learning, networking and entertaining activities, as well as WFNB's annual general meeting.
WordsSpring leads off on May 4th with book launches by David Adams Richards, Susan White, M. Travis Lane, KV Johansen, Margaret Eaton, Laurie Glenn Norris, and Gerard Beirne. See the WFNB's website at www.wfnb.ca for a complete schedule of events.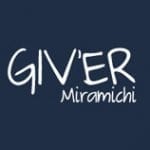 Giv'er Miramichi is about "What's up, what's new, what's happening". We are focused on building people up, supporting one another and celebrating our successes.