Miramichi Fishing Report for May 10, 2012
Special Note: Doug will be at Chapters Books Store in Fredericton this Saturday, May 12, from noon until 2 p.m. to sign copies of Salmon Country and his other works.  Drop by to chat or to get your copy signed.
Miramichi – We are now approaching the "in-between" season as the last of spring salmon is winding down, and the brights haven't yet arrived.  There are some reports of trout, although most say they are black trout.  There are hordes of smelt in some areas and lots of bass to contend with.
W. W. Doak and Sons in Doaktown said spring salmon angling was quietly winding down, but there were still salmon and grilse around, with some reported in the Boiestown area last weekend.  However, they are tougher to catch.  There have been reports of some black trout.  Water conditions were good.
Flies of choice were Muddlers, and Mickey Finn and Black Ghost streamer patterns for trout.
Derek Munn of Ledges Inn in Doaktown and Mountain Channel in the Rapids area said there were still some fish around, but they were getting very fussy.  They did catch some on the weekend and picked up four salmon on a trip down-river to Blackville.  There were a few small trout caught, but nothing significant.  Ledges Inn will be opening their four private lakes on May 15.  For bookings, contact Derek Munn at 506-365-1820 or at 506-365-0168.
Flies of choice were mostly Maribous, although one salmon was taken on a Rusty Rat.
Herb Barry Sr. of Herb's Fly Shop on the Station Road in Blackville said angling was slow, but they were seeing lots of spring fish showing, but they were tough to catch.  There were even some reported jumping near the Mouth of the Cains this past week.  There were a few smaller trout in the under a foot range being caught.
Flies of choice were Silver smelt for salmon and smaller Renous Specials and Maribou patterns with yellow for trout.
Curtis Miramichi River Outfitting in Blackville said there were lots of spring salmon and grilse still around, but getting them to take was a different story, with only a few caught here and there.  There were some trout in the three to five pounds range being hooked.  Water conditions were described as good.
Flies of choice were Blue Smelts for spring salmon, and Muddlers, Blue Alvers and Elwise for trout.
George Routledge of George's Fly Shop at the Mouth of Renous in Quarryville said there were not very many salmon or grilse being caught, but then again, there weren't many anglers out.  There were some small black trout being hooked around Quarryville, and some in the Doyle's Brook area in the 20-22 inch range.  The water there was still a bit high, but was dropping.
Flies of choice were smaller Black Ghosts, Green Machines and Copper Killers on no. 4 hooks for trout.
Jim Laws of Miramichi Hunting and Fishing in Newcastle, Miramichi reported very few spring salmon and grilse being hooked, and some trout.  However, there were good numbers of bass being hooked by trout fishermen.
Flies of choice were Renous Specials and a variety of other spring streamers.
Syd Matchett of Trout Brook Fly Shop on the Northwest Miramichi said angling was quiet, but there were still good numbers of spring salmon and grilse still around, with only a few being hooked.  There were some trout being reported.  Syd felt that with the full moon and higher tides, there could be fresh fish in the system by the weekend.  The water was getting a bit low, so rain today was welcomed.
Flies of choice were Black Ghosts, Golden Eagles, Gray Ghosts and Green Ghosts.
Debbie Norton of Upper Oxbow Outdoor Adventures on the Little Southwest Miramichi said angling was slower and there were still spring fish around.  They hooked some salmon and grilse on the weekend, and had caught a 36-inch salmon Wednesday morning.  There were reports of some nice trout in the one to five pound range.  The water was getting down and running boats was touch and go.  The smolt were heading out, and there was a large run of smelts in.  They had released about 20,000 from their smolt wheel yesterday.  She said they also had a hard time keeping bass off their lines.
Flies of choice were Pink Panties.
Tuesday, May 15 is the official opening of lakes in the Miramichi drainage with a daily catch limit of 5.  All most be over 10 cm and only two can be over 30 cm.  A total of two Brown Trout is allowed, within the five limit.
Staring May 16 the summer catch and release daily quota applies with only four a day allowed for salmon, or the tagging of one completes the day's fishing. There are some stretches of some rivers open to bait fishing from May 16 to May 30.  There are too many to list, so check your Booklet Regulations or contact your local DNR office for clarification.
So enjoy the streams, rivers and lakes of our great province by getting out and "on the water".
Don't forget to show your support for our sponsors, because without them, this column would not be possible.  
Check out Deals 4 U in Miramichi for your grocery needs, and good Cuban cigars to celebrate getting back to the rivers.
Drop in Bryant Freeman's Eskape Anglers in Riverview to stock up on streamers for spring angling as well as any other equipment you may need such as a Reddington Rod.
Miramichi City Surplus on the outskirts of Miramichi in the Lower Derby road offers a nice range of rods, reels, tackle, bait and other outdoors supplies and hunting needs.  Be sure to also bring along your recyclables.
Thought for the Week: "Fly fishermen are born honest, but they get over it." …Ed Zern
River-Lore:  Many old-timers who know the rivers well, have said that when the alder bush grows a leaf as large as a mouse's ear, bright fish are in the river.
E-Mail:
Hope you enjoy the story, I enjoyed the telling of it:  (May on the Miramichi)  http://theriverscourse.blogspot.com/2012/05/early-may-on-miramichi.html
Best regards,
Gary Tanner
Until next week,
TIGHT LINES
DOUG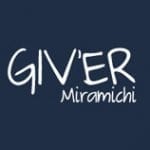 Giv'er Miramichi is about "What's up, what's new, what's happening". We are focused on building people up, supporting one another and celebrating our successes.