Protect Your Memories, Join the Walk
If you are in your late twenties or early thirties, at this stage of your life, you could be building a career, or raising a family. You are possibly saving for and making long-term plans for retirement. You have causes you believe in, you volunteer, but perhaps not at the Alzheimer Society because after all, Alzheimer Disease is a condition only older people need to be concerned about. Or is it?
Sadly, this is not true.
According to the study Rising Tides – The Impact of Dementia on Canadian Society (October 2009), "within a generation (25 years), the number of people living with Alzheimer's disease or a related dementia could reach between 1 million and 1.3 million."
This means your generation. Consider the memories you are collecting now and how precious they are to you. This could mean a far different retirement scenario than the one you are planning.
The reality of this disease is frightening. Currently, 25,000 new cases of Alzheimer Disease are diagnosed yearly. Statistics gathered in the 2009 study show "aapproximately 500,000 Canadians are living with Alzheimer's disease or a related dementia. Of the 500,000 people affected, more than 71,000 of them are under the age of 65, and approximately 50,000 of them are under the age of 60. One in eleven people over the age of 65 currently have Alzheimer's disease or a related dementia. Women make up 72 percent of Canadians with Alzheimer's disease. Within just five years, an additional 250,000 Canadians could develop Alzheimer's disease or a related dementia."
At this stage there is no cure. Researchers stress lifestyle changes to reduce the risk. Education is vital, as is support for persons and families affected by dementia. The Alzheimer Society plans education seminars and fundraisers throughout the year to provide vital information and support.
Don't wait. Begin now to plan a healthy future by educating yourself about this disease to protect your memories. Participate in the Walk for Memories on Sunday, May 27, 2012 at the Royal Canadian Legion (#3 Chatham) from 12-4 pm. For every 100 dollars you raise, your name will be included for a great prize. Even if you can't walk- just fill in pledge sheet and return to the Alzheimer's office and you will be entered.
Bring your family to enjoy refreshments, a BBQ, door prizes, games. Music will be provided by the Miramichi Fiddlers and Joanne Lynch.
For pledge sheets, contact Mary Jane Hickey, Fundraising Co-ordinator Alzheimer Society at (506)773-7093 and (506)778-8202.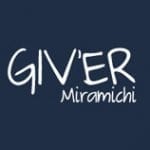 Giv'er Miramichi is about "What's up, what's new, what's happening". We are focused on building people up, supporting one another and celebrating our successes.