Miramichi Fishing Report for Thursday, July 19, 2012
After a promising improvement mid last week, angling has dropped off considerably.  There are still fish being hooked along the system, but in no great concentrations.  Water levels are dropping and the water temperatures are creeping up, but we are far from a panic mode.  We do need some rain and cooler nights, but are getting by on the remnants of our recent stint of high water.  However, if anglers plan to release a grilse or salmon, do so very quickly or break it off if it is to survive.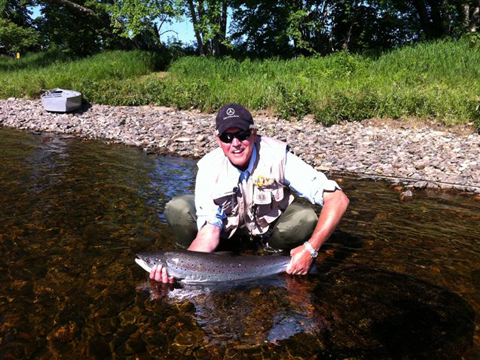 Doug White's Tammerack Sports Fly Shop in Juniper said there were very few anglers out and the water was very low and warm.  He hadn't heard of any being caught in the last few days
Flies of choice White-tailed Green Machines, Jigaboos, Bombers and Dry Flies.
W. W. Doak and Sons in Doaktown said that fishing there was better than most places.  From Blissfield up anglers were picking up fish, while the Quarryville/Blackville area was slow.  Water levels were decent, but the river could use a good day's rain and some cooler nights to keep water temperatures from rising.  The most productive time to fish was early morning.  Generally anglers were amazed at the ratio of salmon to grilse which was about 50-50.  Normally there would be 10 grilse tone salmon this time of year.  The Cains and Dungarvon Rivers were on the low side and need rain.
Flies of choice were Undertakers, Green-butt Bear Hairs, Butterflies and White-tailed Green Machines, along with some Brown Bombers with white tails.
Derek Munn of Ledges Inn in Doaktown and Mountain Channel in the Rapids area said they were getting some every day, averaging 5 to 6 fish between 7 rods.  The water was warming, although the level was decent.  A good rain would be welcomed.  They did land and released a 26 pound salmon this week.
Flies of choice were Smurfs, and Bombers with brown & orange with brown wings, brown & white and blue & white.
Herb Barry Sr. of Herb's Fly Shop on the Station Road in Blackville said he'd hooked a couple of salmon, but generally there were not a lot being caught.  Anglers were seeing schools of fish, but they were moving right through and not taking well in the Blackville area, although Blissfield was getting decent angling.
Flies of choice were Woof Woofs, White-tailed Green Machines, Shady Ladies with white tails & glitter, Routledges and Dry Flies & Bombers.
Curtis Miramichi River Outfitting in Blackville said angling was very slow with only a few fish being caught.  There were reports of a few salmon and a trout in the Blackville area.  The water is a bit low and a good rain is needed.
Flies of choice were White-tailed Green Machines, White-tailed Green Machines with a red butt and Krystal Flash, Green-butt Bear Hairs, Undertakers, Shady Ladies in both the wet and bug patterns, and Bombers.
George Routledge of George's Fly Shop at the Mouth of Renous in Quarryville was not available for comment as he was away visiting for a few days.  However, angling there was described as very slow and the water was low.
Flies of choice were White-tailed Green Machines, Shady Ladies, Black Ghosts and Bombers.
Jim Laws of Miramichi Hunting and Fishing in Newcastle, Miramichi reported hearing of the odd fish being caught, but certainly in no great numbers.  Water conditions were low and getting warm.
Flies of choice were White-tailed Green Machines, Blue Smurfs, Shady Ladies along with Dry Flies and Bombers.
Syd Matchett of Trout Brook Fly Shop on the Northwest Miramichi said angling was very quiet.  Rick Miller did hook a salmon and a grilse, and other anglers were picking up one here and there along the system.  Some camps were getting a few in the mornings, but all in all there were no great numbers of fish being hooked.  The water level was low, but the temperature was decent so far.
Flies of choice were White-tailed Green Machines, Undertakers, Shady Ladies and Bear Hairs on nos. 6 & 8 hooks.
Debbie Norton of Upper Oxbow Outdoor Adventures on the Little Southwest Miramichi said angling had picked up last week, but had slowed again by the weekend with only the odd fish being caught.  Spey-Caster Walter Geryk of the Massachusetts Northern Fly Fishing School did land a grilse.  The water level was decent, but a good rain was definitely needed.
Flies of choice were White-tailed Green Machines.
So, hope for some decent rain and cooler temperatures so we can get back "on the water".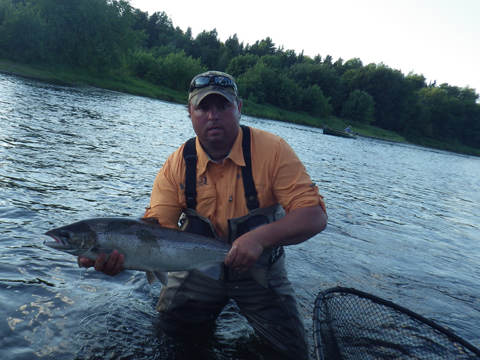 Don't forget to show your support for our sponsors, because without them, this column would not be possible. 
Check out Deals 4 U in Miramichi for your grocery needs, and good Cuban cigars to celebrate getting back to the rivers.
Drop in Bryant Freeman's Eskape Anglers in Riverview to stock up on streamers for spring angling as well as any other equipment you may need such as a Reddington Rod.
Miramichi City Surplus on the outskirts of Miramichi in the Lower Derby road offers a nice range of rods, reels, tackle, bait and other outdoors supplies and hunting needs.  Be sure to also bring along your recyclables.
ANY FINANCIAL CONTRIBUTATIONS TOWARD HELPING WITH THIS COLUMN ARE GREATLY APPRECIATED: Click here to donate now. A SPECIAL THANKS to all who have already made contributions.
Thought for the Week: "I've gone fishing thousands of times in my life, and I have never once felt unlucky or poorly paid for those hours on the water." William Tapply  "A Fly-Fishing Life"
RIVER-LORE: Anglers on the Northwest Miramichi traditionally switch from green- butt flies to red-butts come August.
A Special Treat from Herb Barry Sr. :
Miramichi Fishin'
Up at six and off to the shore,
I'm a lucky man, who could ask for more.
Into the water and out goes my line,
I'm sure to have a fish by nine.
The fish splashes and my line gets tight, now me and that fish, are in for a fight.
The reel screams and my heart starts a thumpin'
the fish is runnin' and it is a jumpin'.
Across the water and back again,
he tries to do whatever he can.
But the hook is deep and the leader is tough, it's just like watchin "Canada In The Rough".
He's a good one, covered with sea lice
he will look even better covered in ice.
Now I have my fishin' tale for the day,
it will probably get better, who's to say.
I'm a lucky man as you can see,
to fish everyday on the Miramichi.
By Herb Barry Blackville NB
Until next week
TIGHT LINES
DOUG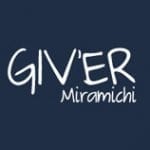 Giv'er Miramichi is about "What's up, what's new, what's happening". We are focused on building people up, supporting one another and celebrating our successes.