by Clarissa Harris LeBreton
Edna Carter is the recipient of this year's The ROOF project.
On Monday June 11th, I had the most wonderful opportunity to tell Edna she was getting a brand new roof. On Monday July 16th, under sunny skies and very warm temperatures, with many hands, Edna's new roof was installed.
The ROOF project began as a way for Danny and Paula Matchett of Danny's Improvements to give back to families on the Miramichi. With their belief that "the Sky's the Limit if you have a roof over your head," the Matchetts entered their second year with The Roof Project. Selection is made, not just on financial need, but on community involvement and self-sacrifice.
While The ROOF project is Danny and Paula's dream, they have help.
"Of course, this project could never have been created without the amazing Board of Directors that stand behind Danny and I," Paula said on the day of the roof installation. "Kirk MacCallum of MacCallum Building Supplies, Claudia Mutch of CHM Management Group and Norman Roy of Roy Brothers Construction are truly the backbones in this project."
On the morning of July 16th Edna Carter posted on her Facebook wall: "The first of the crew has arrived, today is the day." Her worries of a new roof would be over by the end of the day.
Edna is the epitome of self-sacrifice. She gives of herself to her family and her community. She can be seen around Miramichi with a smile and a wave and her mere presence warms the heart.
With the work crew that morning came special visitors. MP Tilly O'Neill Gordon came to give her well-wishes to Edna, Danny, Paula and the work crew. Also visits from MLA Bill Fraser, Mayor Gerry Cormier and Councillors Shelley Williams and Peggy McLean carried on throughout the day.
Breau Disposal stepped in to help by donating the disposal bin and Relish Gourmet Burgers provided the crew's lunch with the one and only Rasin' the Roof feature burger, specially created for this project.
Undoubtedly this project would have never come to fulfilment without the crew of Danny's Improvements. A very special thank you for their hard work: Ricky Sherrard (Foreman), Chris Matchett, Jamie Tozer and Lynn Williston. Also, special thanks to Roger Comeau and Aaron Furlong of Roy Brothers Construction.
Each and every person involved in this project, from nomination to reveal, from planning to completion can feel nothing short of humbled. Humbled to be involved in Danny and Paula's dream of giving such a gift to a deserving community member and humbled to be invited into Edna Carter's life to share her joy of receiving such a wonderful gift.
Adults and children alike worked diligently throughout the day, braving high temperatures, leaving Edna with a brand new roof, and less worry. Nonetheless, this project was more than just about a raising a roof. It was about raising community spirit and gathering folks together to realize a dream, even if it was one shingle at a time.
Clarissa Harris LeBreton is the MYPIE Community Champion of the Year 2012.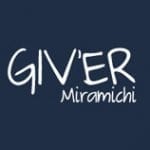 Giv'er Miramichi is about "What's up, what's new, what's happening". We are focused on building people up, supporting one another and celebrating our successes.