Miramichi Fishing Report for Thursday, August 2, 2012
Very warm weather and low and warm water conditions continue to plague angling on the Miramichi River system.  Wednesday's rain was no more than a sprinkle at best, so we are still in the "hoping" mode.  Pool closures (see below) continue to be in effect while we all wait for a good day's rain to improve conditions.  Both counting fences at Cassilis and Millerton were totaling less than six fish a day combined.
Click here to view Pool Closures (pdf)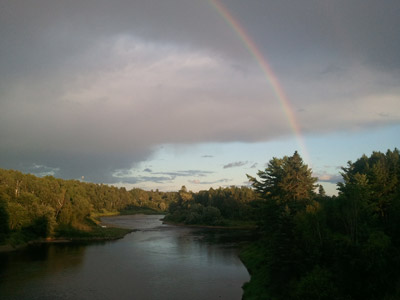 Doug White's Tammerack Sports Fly Shop in Juniper was unavailable for comment this week.
W. W. Doak and Sons in Doaktown said water conditions were low and warm, with very few anglers out, and very few fish being caught.  There was one grilse reported Tuesday.
Flies of choice were small Shady Ladies, Undertakers and White-tailed Green Machines on nos. 8 & 10 for wets and Bombers.
Derek Munn of Ledges Inn in Doaktown and Mountain Channel in the Rapids area said angling was pretty slow.  They hadn't caught anything for several days, and with the warm water and low conditions, were only fishing in the mornings.
Flies of choice were dry flies and Bombers.
Herb Barry Sr. of Herb's Fly Shop on the Station Road in Blackville said angling was terrible with virtually no fresh fish being seen.  The old fish were sluggish and just laying in the colder pools.  The river was so low that it was beginning to smell.  He said we need a good rain to put the water level right into the alders.  He reported seeing some dead fish.
Flies of choice were Blue Rats on no. 6 hooks.
Curtis Miramichi River Outfitting in Blackville said angling was very poor and the water was extremely warm.  Only the odd fish was being seen, let alone caught.  There were also reports of some dead fish.
Flies of choice were White-tailed Green Machines, Undertakers, Bombers and Carter's Bugs
George Routledge of George's Fly Shop at the Mouth of Renous in Quarryville there were very few fish around and very few out fishing.  The water was low and so warm you could take a bath in it.  He advised anglers to please stay home until conditions changed as any fish hooked and handled would probably die.
Flies of choice were blue patterns such as Blue Charms, Smurfs and Blue Bombers.
Jim Laws of Miramichi Hunting and Fishing in Newcastle, Miramichi reported conditions as very low and very slow with only the odd fish being hooked.
Flies of choice were Bombers and Dry Flies along with White-tailed Green Machines.
Syd Matchett of Trout Brook Fly Shop on the Northwest Miramichi said angling was very quiet with only the very odd fish being hooked.  The Crown Reserve Stretches were only averaging about one or two fish a day.  The water was low and warm, with a good two-day rain needed.
Flies of choice were small dark flies such as Shady Ladies and Undertakers on nos. 8 & 10 hooks, along with Bombers.
Debbie Norton of Upper Oxbow Outdoor Adventures on the Little Southwest Miramichi said we are already into the Dog Days of Summer.  The water was low and warmer than bath water.  The few fish there were around were sluggish.  Jacques Heroux did catch and release a grilse on Tuesday.
Flies of choice were Bombers.
So as we wait for rain, now might be a good time "to scout" your favourite spot with low water.  You'll see where the under water rocks are and discover some new places where fish will likely lie.  Then when conditions improve, you be catching more fish as you get back "on the water".
Don't forget to show your support for our sponsors, because without them, this column would not be possible. 
The Moncton Fish & Game Association holds meetings on the first Monday of every month. Call (506) 351-0799 for info. Their Annual Fundraising Dinner will be held on November 24.
Check out Deals 4 U in Miramichi for your grocery needs, and good Cuban cigars to celebrate getting back to the rivers.
Drop in Bryant Freeman's Eskape Anglers in Riverview to stock up on streamers for spring angling as well as any other equipment you may need such as a Reddington Rod.
Miramichi City Surplus on the outskirts of Miramichi in the Lower Derby road offers a nice range of rods, reels, tackle, bait and other outdoors supplies and hunting needs.  Be sure to also bring along your recyclables.
ANY FINANCIAL CONTRIBUTATIONS TOWARD HELPING WITH THIS COLUMN ARE GREATLY APPRECIATED: Click here to donate now. A SPECIAL THANKS to all who have already made contributions.
Thought for the Week: "In every species of fish I've angled for, it is the ones that have got away that thrill me the most, the ones that keep fresh in my memory.  So I say it is good to lose fish.  If we didn't, much of the thrill of angling would be gone." Ray Bergman
E-MAIL:
As requested by some members of the Dieppe Fly Tying Club last Spring, we are trying to organize a bus to assist the Fly Fishing Show in Somerset, New Jersey, next January. The Somerset Fly Fishing Show is the biggest Fly Fishing show in the world!
We have found a Passenger Bus that can drive up to 55 people to the show. Here is the itinerary and information:
Date: Leaving Thursday January 24th, 2013 early in the morning and returning Sunday January 27th
Lodging: Each participant or group will reserve their own room (3 nights) at the Doubletree Somerset Hotel
Admission at the show: 25$ for two days pass
Cost for the travel (bus): 125$/person…the Club will pay the difference if we cannot reach 55 participants
Others: You need a valid passport and now we can bring back up to 800$ worth of merchandise
Before we reserve the bus, I am doing a survey on how many of us would be interested by such a road trip. Can you reply to me your interest by mid August? For now, you can invite a friend or 2 because I don't think we can fill the bus only with our members. So let me know if you will be alone or with someone. My goal is to finalize the reservation of the Passenger bus in September for you to reserve your room early.
Thanks
Jacques Héroux
tél: 506-855-7298
Cel: 506-874-0196

www.salmosalar.info
Until next week
TIGHT LINES
DOUG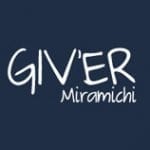 Giv'er Miramichi is about "What's up, what's new, what's happening". We are focused on building people up, supporting one another and celebrating our successes.