Miramichi Fishing Report for Thursday, September 20, 2012
MIRAMICHI – Once again the promise of rain and very little received, but every drop is welcomed.  There have been slight raises in water which have quickly dropped back again.  But cooler temperatures have spurred some fish to take.  However the majority of these takers are old fish that have simply moved from holding pool to holding pool.  There are very few fresh fish entering the system.  The counting trap at Millerton reported one salmon and one grilse on Wednesday, but none the day before.  Cassilis was zero for both days.  So the waiting game continues for the traditional "fall run".
Of interest this week was a video taken of a piebald salmon on the Miramichi.  It had a completely black head and then almost a sharp line around the gills as the rest of the body was white. Here is the U-tube address to check it out: http://www.youtube.com/watch?v=l4pouJ0oh4U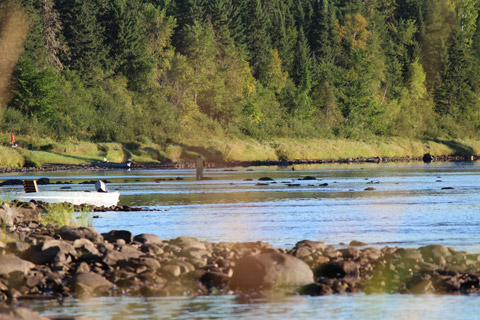 Doug White's Tammerack Sports Fly Shop in Juniper said last week he would report any change for the positive.  Needless to say, since I haven't heard from him, conditions remain extremely poor.
W. W. Doak and Sons in Doaktown said anglers were picking up the odd dark fish here and there which was an improvement over recent weeks.  Water temperatures were quite cool, especially in the morning, so that was encouraging more takers.  They were hoping for a good dumping of rain yesterday, but it really did not materialize.
Flies of choice were Ally's Shrimps, Glitter Bears and Undertakers.
Derek Munn of Ledges Inn in Doaktown and Mountain Channel in the Rapids area said they were picking up some fish each day, averaging three or four, most of which were salmon, and certainly not fresh fish.  Water temperatures were cool, but more rain is needed.
Flies of choice were Blue Bombers, Green-butt Bear Hairs, Ally's Shrimps and Tippet Shrimps.
Herb Barry Sr. of Herb's Fly Shop on the Station Road in Blackville said anglers reported seeing more fish this week.  There was a dark salmon hooked Sunday and another Monday with reported sea lice.  More fish were seen rolling.
Flies of choice were Ally's Shrimps, Orange-butt Red-Squirrel Tails, and Yellow & green butt Killer Whiskers.
Curtis Miramichi River Outfitting in Blackville said anglers were hooking the odd fish here and there.  One angler even reported he had limited out one morning.  Water tempes were cool, but rain is needed.  Canoe on the Main Southwest from the Cains River down was good.
Flies of choice were General Practitioners, Ally Cascades, Ally's Shrimps, Tippet Shrimps, Sugarman's Shrimps, Copper Cains, Copper Killers, White-tailed Green Machines and Smurfs.
George Routledge of George's Fly Shop at the Mouth of Renous in Quarryville said there were very few fish moving.  There might be one caught Monday and another on Wednesday, but certainly in no numbers.  These were basically old dark fish as there were very few fresh ones coming in.  Normally, anglers could expect new fish with each tide, but not so this year.  This has been the worst September Routledge has seen, and he has been at Quarryville since 1962.
Flies of choice were Ally's Shrimps, L.T. Specials, Chief Needabahs, General Practitioners and Copper Killers.
Jim Laws of Miramichi Hunting and Fishing in Newcastle, Miramichi reported angling as very slow with not many anglers out.  The water was cool, but rain is needed.
Flies of choice were hard to say as he had not sold very many recently.
Syd Matchett of Trout Brook Fly Shop on the Northwest Miramichi said angling showed some improvement over last week.  Chris Edmonds and Dave Williams had hooked one each and had raised and seen a few more.  There were also some brighter salmon reported being hooked.  Francois Sorel had hooked two Monday.  Sorel said he'd come down to try to teach his brother Guy how to fish, but it seemed pointless.  Only a little rain fell there Wednesday.  Syd said that it must be politicians doing the weather forecasting as we have been promised high amounts of rain for several times, but nothing has materialized.
Flies of choice were small Butterflies, Shady Ladies, and White-tailed Green Machines on nos. 8 & 10 hooks.
Debbie Norton of Upper Oxbow Outdoor Adventures on the Little Southwest Miramichi said long-time guests Blair & Darlene Williamson of Ontario were visiting to fish and even helped hang some doors while there.  Blair did catch a 15-salmon on his fifth cast Sunday while under the watchful eye of guide Stephanie Allison.  They had received a slight raise in water and temperatures were cool.  A lot more rain is definitely needed.
Flies of choice were the Fall patterns and White-tailed Green Machines.
So the waiting game continues for both rain and fresh fish.  Then we can get back "on the water".
Don't forget to show your support for our sponsors, because without them, this column would not be possible.
Check out Deals 4 U in Miramichi for your grocery needs, and good Cuban cigars to celebrate getting back to the rivers.
Drop in Bryant Freeman's Eskape Anglers in Riverview to stock up on your Fall Patterns as well as any other equipment you may need such as a Redington Rod.  Don't forget this is the home of the "Carter's Bug" as only Bryant can tie it!
ANY FINANCIAL CONTRIBUTATIONS TOWARD HELPING WITH THIS COLUMN ARE GREATLY APPRECIATED: Click here to donate now.  A SPECIAL THANKS to all who have already made contributions.

Thought for the Week: "One thing becomes clearer as one gets older and one's fishing experience increases, and that is the paramount importance of one's fishing companions"  John Ashley-Cooper
E-MAIL:
Atlantic Salmon Federation News
Thursday, Sept. 13, 2012
ASF RIVERNOTES – Salmon are Lightning in Water
~~~~~~~~~~~~~~~~~~~~~~~~~~~~~~~~~~~~~~~~~~~~~~~~
ASF RIVERNOTES – Looking at the incredible experience offered by Atantic salmon, plus a fall update on the rivers.
http://atlanticsalmonfederation.org/rivernotes/
~~~~~~~~~~~~~~~~~~~~~~~~~~~~~~~~~~~~~~~~~~~~~~~~
To keep track of breaking news on wild Atlantic salmon, use the Atlantic Salmon Federation's presence on Facebook. Log in, search for Atlantic Salmon Federation, and click "like".

Until next week
TIGHT LINES
DOUG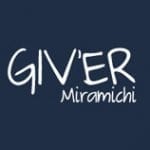 Giv'er Miramichi is about "What's up, what's new, what's happening". We are focused on building people up, supporting one another and celebrating our successes.