Miramichi Fishing Report for Thursday, September 6, 2012
MIRAMICHI – With cooler temperatures, especially at night, conditions have improved a little as water has cooled.  In some cases, fish that were hunkered down in cold water pools may have moved further up river.  However, water levels have remained extremely low, resulting in very few new fish entering the system.  Fish that are being hooked in a few spots have been in the system for quite a while.
Last Thursday after this column had already been sent out, I received notice that starting September 3, Labour Day, nine of the 12 pools that had been closed, were opened.  (See the Variance Order below.)
So now we await rain and hopefully new fish in the form of a big Fall run.  Some parts of the province did receive heavy rains Wednesday, but for the most part, Miramichi was dealt only a sprinkle. Today, the weather report was for a bit more rain.  We'll take what we can get, but we still are in dire need of copious amounts if angling is to produce decent fishing.  The two trapnets (Millerton & Cassilis) were still basically producing almost no fish, with one a day being a good one.
Please find attached the Variation Orders and the Notice to Fisher announcing the reopening of 12 salmon pools on the Miramichi River starting on Monday September 3, 2012.
<<Notice to Fisher – Reopening of 12 salmon pools on Miramichi River.pdf>>
VO-2012-069: Close time for angling, for any species of fish, by certain methods, in certain waters of the Province of New Brunswick. (Re-opening of 12 salmon pools) Begining on Monday September 3, 2012.
<<069-2012 All species angling NB – Open 12 salmon pools.doc>>
VO-2012-070: Close time and quota for fishing for salmon in certain waters of the Province of New Brunswick. (Re-opening of certain salmon pools) Begining on Monday September 3, 2012.
<<070-2012 salmon quota & close time SFA16 – Reopen salmon pools.doc>>
Doug White's Tammerack Sports Fly Shop in Juniper said they had experienced another fishless week.  There were people fishing but there is just no salmon to be had .It's perfect fishing weather if the river was about 2 feet higher but we need more than showers to get it there.  I still have faith we are going to have fishing yet but it may take more than faith.
Flies of choice were new patterns called "a variety of Wishful Thinkings"
W. W. Doak and Sons in Doaktown said anglers there were picking up a few fish early this week.  There were unconfirmed reports of about a dozen or so, with water temps in the 60s Fahrenheit in the mornings.  With cooler temperatures, especially at night, they felt a corner had been turned.  Now, all that is needed is about two feet of water.
Flies of choice were small dark patterns such as Green-Butt Bear Hairs, Undertakers, Shady Ladies and White-tailed Green Machines in wets, along with a variety of Dry Flies and Bombers.  If the water raises, anglers would likely switch to more of the Fall patterns.
Derek Munn of Ledges Inn in Doaktown and Mountain Channel in the Rapids area said their sports were catching some fish in the cold water pools where temperatures were good in the mornings.  They had hooked about 20 fish from Sunday to Wednesday.  The water was cooler but extremely low.
Flies of choice were White-tailed Green Machines and Undertakers on no. 10 hooks, along with Bombers.
Herb Barry Sr. of Herb's Fly Shop on the Station Road in Blackville said angling was still very slow there and the water was very low, although cooler.
Flies of choice were more a stocking up with Fall patterns in hopes we get lots of rain.
Curtis Miramichi River Outfitting in Blackville said there were a few fish around and a few being caught.  The water was cooler, but still very low.  Canoeing on the Mian Southwest Miramichi below the Mouth of the Cains River was good, with a few of the Fall colours beginning to show.
Flies of choice were Bombers, and anglers picking up Fall patterns in anticipation of a Fall run.
George Routledge of George's Fly Shop at the Mouth of Renous in Quarryville had only heard of one fish caught, and was unsure of which fly had taken it.
Flies of choice were generally small dark patterns and those with blue, along with Bombers.
Jim Laws of Miramichi Hunting and Fishing in Newcastle, Miramichi reported very low, but cooler water with no fresh fish.  Only the odd one was being hooked, with few anglers even bothering to go out.
Flies of choice were primarily Dry Flies and Bombers.
Syd Matchett of Trout Brook Fly Shop on the Northwest Miramichi said angling was very slow and the water very low, but cooler.  There were no fresh fish entering the system.  He'd heard of one grilse taken on an Ally's Shrimp.
Flies of choice were Ally's Shrimps, small dark wets such as Shady Ladies, Bea Hairs, White-tailed Green Machines & Undertakers, and other Fall patterns such as L.T. Specials, and General Practitioners.  There were also requests for Carter's Bugs.
Debbie Norton of Upper Oxbow Outdoor Adventures on the Little Southwest Miramichi said not much had changed there, except for cooler water temperatures.  There was still no fish to speak of, and few if any being caught.
Flies of choice were Fall Patterns as anglers were getting prepared and desperately hoping for a Fall run.
So unless we get a several good down-pours, it is still a waiting game to get back "on the water".
Don't forget to show your support for our sponsors, because without them, this column would not be possible.
Check out Deals 4 U in Miramichi for your grocery needs, and good Cuban cigars to celebrate getting back to the rivers.
Drop in Bryant Freeman's Eskape Anglers in Riverview to stock up on your Fall Patterns as well as any other equipment you may need such as a Redington Rod.  Don't forget this is the home of the "Carter's Bug" as only Bryant can tie it!
ANY FINANCIAL CONTRIBUTATIONS TOWARD HELPING WITH THIS COLUMN ARE GREATLY APPRECIATED: Click here to donate now.
Thought for the Week: "The water you touch in a river is the last of that which has passed, and the first of that which is coming; thus it is with time."  Leonardo DaVinci
E-MAIL:
Doug
I was trying to reach Syd Matchett but couldn't find his email address. I was in to visit him on Friday on my way to the Depot.  Could you please relay the message to him.
Water at the depot was cold and at July levels.  Fish were active in the early morning and late evening.  Saw about 6 fish each day however only hooked and release 2 grills.  Both were hooked at dead crow pool on small green machines at about 7:00am Saturday and Sunday.
Always look forward to the fishing report keep up the great work.
Jeffrey Sweet
September 1 and there's a little bit of fall in the air.  Two more weeks and I'll be on the Miramichi.  Quickie post with photo:  http://theriverscourse.blogspot.com/2012/09/golden-pheasant-spey-slight-variant.html
Enjoy the long weekend!
Gary Tanner
Atlantic Salmon Federation News
Thursday, August 30, 2012
ASF RIVERNOTES Has the Latest! Heading for the River in September?
~~~~~~~~~~~~~~~~~~~~~~~~~~~~~~~~~~~~~~~~~~~~~~~~
ASF RIVERNOTES has the latest information for you – and some comments on salmon results with a point-and-shoot camera. A report you need to read.
http://atlanticsalmonfederation.org/rivernotes/

Hi Everyone,
I am sending along a poster and the details for our upcoming Dinner Theatre that the Saplings will perform "McCloskey's General Store" if you could post this information in any way possible that would be greatly appreciated.
The Woodmen's Museum and the
"SAPLINGS THEATRE TROUPE" Present
"McCloskey's General Store" – Dinner Theatre
at the Museum's Cedar Room
Sunday, September 9th at 1:00 pm
TICKETS $20 Per Adult
$10 Per Child under 12
Roast Turkey Dinner
with all the fixin's: Turkey, Dressing,
Gravy, Potatoes, Carrots and Peas,
Cranberry Sauce, Homemade Rolls,
Homemade Pickles.
Dessert: Apple Crisp with Hot Rum Sauce
Tickets Available at the Museum
For Information 369-7214
Thanks,
Jenny Colford
Until next week
TIGHT LINES
DOUG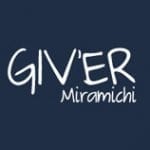 Giv'er Miramichi is about "What's up, what's new, what's happening". We are focused on building people up, supporting one another and celebrating our successes.