The Countdown has begun for Culture Days 2012 in New Brunswick
The countdown has begun for Culture Days 2012 in New Brunswick! Already 90 free cultural activities are scheduled to take place all over the province during the last weekend of September (September 28, 29, and 30th).
The celebrations were launched yesterday during a news conference at the Charlotte Street Arts Centre in Fredericton in the presence of The Honourable Graydon Nicholas, Lieutenant Governor of New Brunswick.
Culture all over the map
People of numerous New Brunswick localities will have the opportunity to take part in various cultural activities and to discover hidden gems in their own backyards.
"We have such a great cultural diversity in our province and Culture Days is the perfect vehicle to let our creativity shine through. This grassroots movement reunites cultural lovers, the public, municipalities, artisans, museums, festivals, etc. It really shows that culture is a driving force in New Brunswick whether it is in rural communities or large urban centre," says Susan Chalmers-Gauvin, co-Chair for Culture Days in New Brunswick and Founder and CEO of Atlantic Ballet Theatre of Canada.
Culture, Tourism and Healthy Living Minister Trevor Holder encourages all citizens to take part in the event: "New Brunswick's strong cultural identity contributes to the quality of our daily life," said Minister Holder. "Culture Days is an opportunity for all New Brunswickers to experience free, hands-on cultural activities in their communities as part of this national celebration. I encourage everyone to participate in Culture Days 2012 and to help celebrate the dynamic, unique and diverse nature of culture in our province."
Already, people all over New Brunswick are getting ready for Culture Days. The city of Fredericton will host several activities including guided tours of The Playhouse, an art exhibit opening at the Gallery 78, free music at the James Joyce Pub presented by the Centre Sainte-Anne, and the Festival NB Musicians Emerge at the Charlotte Street Arts Centre. A frightful family event awaits people on Friday night (September 28) with Biff Mitchell's Scary Night Time Horror Writing Workshop at Studio4Ward from 8:30 pm to 10 pm.
In Sackville, Mount Allison University art marketing students are planning to invade the downtown with the help of fine arts students who will offer performances in public spaces in the downtown on Friday September 28. The students are under the direction of Professor Rosemary Polegato and this will be their 3rd participation in Culture Days.
Florenceville-Bristol is taking part in Culture Days for the first time! This year, they invite the public to drop in to the Andrew and Laura McCain Art Gallery on Friday September 28 to see the current show and pick up an arts and crafts studio tour map featuring 22 local artists for the next day's studio "open house" tour. It promises to be an exciting weekend of activities for the whole family!
In Moncton, the public will have the opportunity to discover beautiful art all over the city during the 2012 Art Gallery Tour. In all, 15 locations are registered and will be waiting to welcome the public and invite them to discuss with artists and gallery owners on Saturday September 29 from noon to 5 pm.
The Bathurst Heritage Museum will hold an exciting open house event on Culture Days weekend. The Museum will offer projections of concerts, musicals, plays, etc. from the Bicentennial Year celebrations in New Brunswick (1984) and host afternoon tea in period costumes and open the Archives to those interested in learning how to search for their Family Tree.
In Miramichi the Miramichi Art Core presents a Historic Paint Out. On Saturday September 29, people are invited to the Historic Water Street to witness many of the river's artists as they capture on canvas the local landscape, the casual passerby, and other whimsical imagery! It will be the Art Core's third Culture Days participation. The Bread'n Molasses Magazine will hold an online publishing workshop for their first Culture Days event.
Other municipalities who are taking part in Culture Days 2012 are: Edmundston, Grand-Barachois, Saint-Jean, St. Andrews, Tracadie-Sheila, Atholville, Cap-Pelé, Saint-Paul and Petit-Rocher.
All Culture Days activities are in the process of being registered at www.culturedays.com and the public can get a peak at what will be going on in New Brunswick HERE. Those who wish to take part in the celebrations can still register their activities on the the website. They must be free and open to the public. People are encouraged to be creative! Activities can include various aspects of culture: visual arts, music, history, photography, dance, heritage, craft, etc.
Culture for all!
The cross-Canada celebration represents the largest-ever collective public participation campaign undertaken by the arts and cultural community in this country. The inaugural Culture Days celebration was held in September 2010 from coast to coast. Culture Days activities can be organized by cultural organizations, municipalities, artists, groups or individuals across the country. The Culture Days committee helps organizers by offering them a platform to promote their event (via the official website, social media and other promotional efforts). Various Culture Days promotional material can be downloaded from the website free of charge.
About Culture Days
Culture Days is a collaborative coast-to-coast-to-coast volunteer movement to raise the awareness, accessibility, participation and engagement of Canadians in the arts and cultural life of their communities. With the support of a National Steering Committee and volunteer Provincial and Territorial Task Forces, thousands of activity organizers self-mobilize at the grassroots level to present and coordinate free public activities that take place throughout the country over the last weekend of September each year.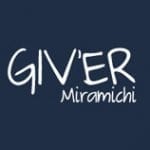 Giv'er Miramichi is about "What's up, what's new, what's happening". We are focused on building people up, supporting one another and celebrating our successes.