Miramichi Fishing Report for Thursday, August 30, 2012
MIRAMICHI – Not a lot has changed during the past week.  For a while we had some cooler temperatures and cooler nights.  But Saturday through Monday put water conditions back to where they were.  The counting fences at Millerton and Cassilis reported maybe a couple of fish a day.
The biggest changed came with DFO lifting the 5 a.m. to 10 a.m restriction, by allowing angling during the complete day, although the original 15 cold water pools are still closed until further notice. (see below)
Please find attached the Variation Order and Notice to Fish Harvesters announcing the reopening of the daily angling to all species on the Miramichi River system starting on Saturday August 25, 2012. Please note the 15 salmon pools closed on July 27, 2012, remain in effect until further notice.
<<Variation Order>> <<Notice to Fish Harvesters>>
______________________________________________
VO-2012-068: Order varying the close time for angling, for any species of fish, by certain methods, in certain waters of the Province of New Brunswick. (The daily closures for fishing any species of fish for the Miramichi River system will be no longer in effect on August 25, 2012 due to improvement in the water conditions).
Doug White's Tammerack Sports Fly Shop in Juniper said it was again the usual doom and gloom. He didn't know how much lower the river can get. The last little raise of water had just sent what fish there were, up further. Oh well, things have got to get better as they have pretty well hit rock bottom. Time to tie some fall flies or maybe some for spring.
W. W. Doak and Sons in Doaktown said angling was pretty slow with low water, although they have seen it lower.  Basically, there were very few anglers out.  However, they were optimistic that with a very big rain and cooler temperatures we should have a good Fall run and some great fishing.
Flies of choice in wets were Undertakers, Green-butt Bear Hairs and White-tailed Green Machines on nos. 8 & 10 hooks, along with a variety of Bombers.
Derek Munn of Ledges Inn in Doaktown and Mountain Channel in the Rapids area said conditions were basically the same as last week.  Very few were fishing and there were very few fish.  The water was low and warm after the hot weekend.
Flies of choice were Dry Flies & Bombers.
Herb Barry Sr. of Herb's Fly Shop on the Station Road in Blackville said they were no fish, no one fishing and very little water to fish in, and what there was, was very warm.  He said you could fry an egg on any of the river rocks.  A good two-day rain at the minimum is needed to get the river back on track, along with cooler temperatures, especially at night.
As far as "flies of choice" were concerned, he suggested stocking up for Fall fishing.
Curtis Miramichi River Outfitting in Blackville said there was "not a thing happening, and very few were out".  The only positive was that canoeing from the Mouth of the Cains down was good.
Flies of choice were White-tailed Green Machines and Bombers.
George Routledge of George's Fly Shop at the Mouth of Renous in Quarryville said that the highest number of anglers he has seen out recently was three at one time, and the highest number of fish caught or seen was zero.  The water was still very warm.
Flies of choice were Shady Ladies, White-tailed Green Machines, Blue Charms and Smurfs, but realistically, there were very few into the shop to really make a choice.
Jim Laws of Miramichi Hunting and Fishing in Newcastle, Miramichi reported only the odd fish being caught on the Northwest.  Other than that, it was very quiet.  The water was low and warm, and few anglers were out.  A long steady couple of day's rain is desperately needed.
Flies of choice were Dry Flies & Bombers.
Syd Matchett of Trout Brook Fly Shop on the Northwest Miramichi said angling was very slow and the water was low again.  However, early morning water temperatures were mid 60s Fahrenheit on Monday. He and his grandsons had fished about 25 hours over three days and never saw a fish.
Flies of choice were small dark patterns such as Shady Ladies, Undertakers, Bear Hairs and White-tailed Green Machines, along with Bombers further up river.
Debbie Norton of Upper Oxbow Outdoor Adventures on the Little Southwest Miramichi said fishing was very poor with no new fish around, and basically no one fishing.  The water was quite low.
Regarding "flies of choice" Debbie suggested trying something red & white like a Singapore Sling.  That would serve anglers a lot better.
So we play the "waiting for rain" game again this week.  Then maybe we'll get some fresh fish and get back "on the water".
Don't forget to show your support for our sponsors, because without them, this column would not be possible.
Check out Deals 4 U in Miramichi for your grocery needs, and good Cuban cigars to celebrate getting back to the rivers.
Drop in Bryant Freeman's Eskape Anglers in Riverview to stock up on streamers for Fall angling as well as any other equipment you may need such as a Redington Rod.
Miramichi City Surplus on the outskirts of Miramichi in the Lower Derby road offers a nice range of rods, reels, tackle, bait and other outdoors supplies and hunting needs.  Be sure to also bring along your recyclables.
ANY FINANCIAL CONTRIBUTATIONS TOWARD HELPING WITH THIS COLUMN ARE GREATLY APPRECIATED: Click here to donate now. A SPECIAL THANKS to all who have already made contributions.
(In honour of Neil Armstrong who passed away this week, and how he compared one of man's greatest challenges to our beloved salmon)
Thought for the Week: "I think we're going to the moon because it's in the nature of the human being to face challenges. It's by the nature of his deep inner soul… we're required to do these things just as salmon swim upstream."
Neil Armstrong
CORRECTION:  Under Syd Matchett's section in the August 23, 2012 Column the name of the girl is Lissa Mallais and not Lisa Malisa.  Sorry for the miscue….Doug
E-MAIL:
Hi All
I see you are having a few problems with your fishing over on the other side of the pond.  Well, we are having a few our selves over here.  The river levels are high sometimes three meters over summer levels.  The rain has been constant and heavy.  At least you can enjoy the sunshine.  I fished with Winston Gilks last September, absolutly fab, you guys are so lucky.  Over here the salmon fishing is nowhere near what you have.  Hope the rest of your season goes well. TAFF
John Viggers
Doug, thank you for your report.  This week could you mention the passing of devoted angler Reg MacPhee from Petitcodiac.  For anyone who has fished Joe Walls shore on the Nor West they certainly would have met Reg. He was the one a great many years ago fishing with a full leg cast and crutches. In the last years, his health failing his wife would not allow him to go fishing alone, but he still managed to get to the river he loved. The last time I saw Reg on the river he needed us to help him across the river and tie a fly on for him because of his deteriorating eye sight, but this was not enough to keep him home. His friends on the Miramichi wish him and his family the very best.
Charlie LeBlanc
Atlantic Salmon Federation News
What do Beer, Wine and Atlantic Salmon Have in Common?
~~~~~~~~~~~~~~~~~~~~~~~~~~~~~~~~~~~~~~~~~~~~~~~~
ASF RIVERNOTES details a special program to aid Atlantic salmon, AND, details of DFO changes to Miramichi Conservation rules. Plus river reports throughout. Check it out!
http://atlanticsalmonfederation.org/rivernotes/
WaveGlider Recovered after 3,000km journey
~~~~~~~~~~~~~~~~~~~~~~~~~~~~~~~~~~~~~~~~~~~~~~~~
A floating surfboard that tracks ASF's tagged Atlantic salmon and other species was recovered off Halfiax after travelling 3,000 km. in two months.
http://asf.ca/wave-glider-recovered-off-nova-scotia.html
Until next week,
TIGHT LINES
DOUG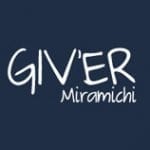 Giv'er Miramichi is about "What's up, what's new, what's happening". We are focused on building people up, supporting one another and celebrating our successes.