Tim Hortons Smile Cookie Campaign Supports Miramichi Kinsmen Club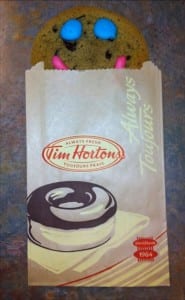 Tim Hortons is bringing more smiles to Miramichi with the launch of the annual Smile Cookie fundraiser. This week the Tim Hortons restaurant owner in Miramichi will generously donate all proceeds from sales of a special smiling chocolate chunk cookie to the Miramichi Kinsmen Club to purchase Christmas Gifts for deserving kids. The $1 treat helps charities, hospitals and community programs across Canada in the cities where they are sold.
"On behalf of all restaurants and team members in Miramichi area, I would like to thank our loyal guests for their generosity and support of the Smile Cookie campaign," said Wade Humphreys, Tim Hortons Restaurant Owner in Miramichi. "Tim Hortons is thrilled to support the Miramichi Kinsmen Club to purchase gifts for deserving children with the funds raised and bring smiles to so many people's faces. We welcome everyone to come in this week to buy a delicious freshly-baked Smile Cookie in support of a great cause."
For the last six years, the Miramichi Tim Hortons restaurant owner and guests helped raise funds for the Kinsmen / Smile Cookie Christmas Project. Miramichi, like any other area, has it's share of underprivileged children. Offering a helping hand at Christmas time is an honour for the Miramichi Kinsmen Club.
"We are delighted that our local Tim Hortons has chosen the Miramichi Kinsmen Club to be the recipient of the proceeds from their Smile Cookie campaign," says Randy Urquhart, Chairman of the Kinsmen / Smile Cookie Project. "We work very hard on a lot of different projects in the Miramichi. This is definitely one of the most rewarding projects our organization has been involved with. I can honestly say that the day we delivered the gifts to the schools was truly unbelievable for me. I have never felt so good in my life."
What began as a way to help raise funds for the Hamilton Children's Hospital in Ontario in 1996, has grown into a major fundraising event across North America. In 2011 alone, the Smile Cookie campaign raised $4 million across Canada and the United States. Nationally, Tim Hortons restaurant owners support more than 345 local charities through the campaign.
For more information on how the Smile Cookie campaign supports communities across Canada, please visit www.timhortons.com/smilecookie
Like Tim Hortons on Facebook at facebook.com/timhortons and follow @TimHortons on Twitter to join the #SmileCookie conversation.
ABOUT TIM HORTONS INC.
Tim Hortons is one of the largest publicly-traded restaurant chains in North America based on market capitalization, and the largest in Canada. Operating in the quick service segment of the restaurant industry, Tim Hortons appeals to a broad range of consumer tastes, with a menu that includes premium coffee, espresso-based hot and cold specialty drinks including lattes, cappuccinos and espresso shots, specialty teas, fruit smoothies, home-style soups, fresh Panini and classic sandwiches, wraps, hot breakfast sandwiches and fresh baked goods, including our trademark donuts. As of July 1st, 2012, Tim Hortons had 4,071 systemwide restaurants, including 3,326 in Canada, 734 in the United States and 11 in the Gulf Cooperation Council. More information about the Company is available at www.timhortons.com.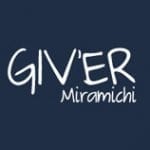 Giv'er Miramichi is about "What's up, what's new, what's happening". We are focused on building people up, supporting one another and celebrating our successes.