Miramichi Conservation is Forever! MSA Fundraising Campaign Marks 60th Anniversary

"Salmon conservation is not just a concern for our time, but rather a mission that has no end, from one generation to the next, literally forever."
With this theme of recognition, that the care of our environment – as epitomized by New Brunswick's famed Miramichi River and its treasured Atlantic salmon – is a work that is never done, the Miramichi Salmon Association (MSA) has launched a major fundraising campaign among its members and supporters to help perpetuate conservation of these wondrous resources for generations to come.
During the next 12 months of its 60th anniversary year, the MSA will endeavour to add one million dollars to each of two Miramichi Forever Funds which have been created at its offices in Miramichi, NB and Boston, MA. These new contributions will build on existing reserves from previous years to ensure that the MSA has the financial capability to continue its programs of protection and preservation indefinitely over the long-term future. The benefits from this campaign are also intended to encourage and motivate coming generations of Miramichi anglers and conservationists to sustain and renew the committed activities of the MSA from one decade to another.
Click here to download a brochure which describes MSA's Campaign 60 in all respects, including 14 specific areas of lasting conservation action which the MSA commits to being "within our grasp, within our means, and within our river".
Helping to lead the campaign as Honorary Chairman is former New Brunswick Premier, Honourable Frank McKenna, also previously Canada's Ambassador to the United States. In his remarks about Campaign 60, Mr. McKenna who is currently Deputy Chair of TD Bank Group, pays tribute to the high values of the Miramichi and its Atlantic salmon:
"As we seek to trace our environmental heritage and to find security for our environmental future, there are some uniquely rare creatures that have endured as long as our memories can recall, and none is more symbolic of the quality of our lives and the health of our rivers than is the wild Atlantic salmon which has existed seemingly forever in the Miramichi watershed of New Brunswick," states Mr. McKenna.
"On their own, the river and the salmon are uniquely special, but taken together as the Miramichi Salmon they present a single image of two natural treasures that are world renowned. As with all such cherished resources, each one of us bears responsibility to pass them on to future generations in as good or better condition as we found them."
From its beginning, one of the distinctive dimensions of the MSA has been the close international relationships which exist among its members and supporters from both Canada and the United States, all who share a deep appreciation and respect for the natural virtues of the Miramchi Salmon. MSA's Campaign 60 will be carried out in both countries by volunteers who will make direct contacts with their fellow members and friends to help achieve Campaign 60's goals through the coming year.
Directing the USA portion of the campaign will be Mr. John Dillion, former President and CEO of International Paper, who has expressed his strong appreciation for the Miramichi relationship between the two countries:
"The lasting MSA bonds which have been formed between residents of both nations through the common cause of conservation go far to exemplify the reality that our environmental world is truly without boundaries," says Mr. Dillion. "Its ultimate salvation will depend upon our ability to work together as citizens of one planet in protecting against degradation, while nurturing conservation and sustainability."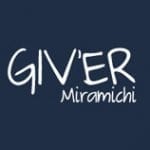 Giv'er Miramichi is about "What's up, what's new, what's happening". We are focused on building people up, supporting one another and celebrating our successes.